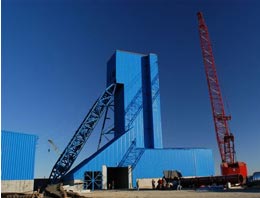 Rio Tinto has obtained clearance from the Mongolian Government to commence shipments from its $6.6bn Oyu Tolgoi copper mine from tomorrow.
The development signals an easing of tensions between the the government and the Anglo-Australian mining firm.
The Oyu Tolgoi gold and copper project, also known as Turquoise Hill, is situated in the south Gobi region of Mongolia, around 80km north of the Chinese-Mongolian border and 550km south of the capital Ulaanbaata.
Rio Tinto and the government have been at loggerheads over issues concerning future operations of the mine.
The government intended that sales revenue generated from the mine be deposited in Mongolian banks, while Rio Tinto wanted to use overseas banks; the disagreement has led to shipments being delayed twice.
Initially, the shipments to China were scheduled on 14 June.
Exports from Oyu Tolgoi will help Rio to secure a further $4bn funding for the expansion of the mine and will offset a drop in revenues from its copper business in the US..
In addition, the company plans to enhance its copper business and cut down its dependence on iron ore assets.
Mongolia Mining Minister Davaajav Gankhuyag told Reuters the shipments were delayed as both parties failed to reach an agreement over revenue issues and the disclosure of $8bn sales agreements.
Rio Tinto's subsidiary Turquoise Hill Resources owns a 66% stake in Oyu Tolgoi, while the government owns the remaining stake.
---
Image: Rio Tinto's subsidiary Turquoise Hill owns a 66% stake in Oyu Tolgoi mine, while the remaining stake in the project is owned by the Mongolian Government.