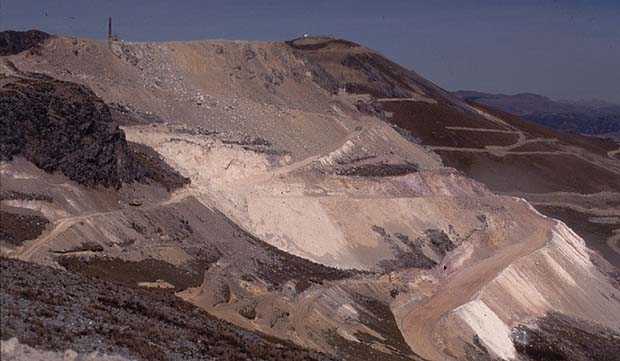 Thousands of protestors have congregated at a lake in the Andes, demanding Minera Yanacocha, a subsidiary of Newmont Mining, shut the $5bn Minas Conga copper and gold mine in the Cajamarca area of northern Peru.
The farmers, who marched towards El Peral Lake, have demanded that the work on the Conga project including construction of water reservoirs be halted immediately.
The locals fear that the project will ruin the El Petrol lake and other water sources, which are used for drinking and farming purposes, allegations which the company has denied.
According to the company, the construction of reservoirs will double the storage capacity and provide greater availability of water to downstream users.
The firm recently completed construction of the Chailhuagon reservoir.
Minas Conga project is located 73km from the city of Cajamarca and close to Minera Yanacocha's existing Yanacocha gold mine.
More protests are expected to continue this week.
Last year thousands of people took to the streets, protesting against the project.
As these protests took a violent turn, in which five people were killed and several injured, the government was forced to declare a state of emergency.
During an interview with EL COMERCIO newspaper that was published on Monday, Energy and Mines Minister Jorge Merino said that the project will proceed, although it is yet to receive social license.
"The government will support private investment but we can't impose a forced decision unless there is a majority in favour of the development," Merino told the publication.
Production at Minas Conga project during its first five years is expected to have an average annual output of 580,000oz to 680,000oz of gold and 155 million to 235 million pounds of copper.
Minera Yanacocha General and Corporate Affairs manager Javier Velarde was quoted by The Wall Street Journal as saying that the company will go ahead with the construction of the Perol reservoir only after getting all the required approvals, which are expected by Q2 of fiscal 2014.
"For the remainder of the year the company will only be working on the construction of access roads, environmental management and sediment control, as well as social investment projects aimed to maximise the community benefits of Chailhuagon reservoir," Velarde added.
Newmont Mining holds 51.35% stake in Minas Conga, Compania De Minas Buenaventura has 43.65% while the World Bank's International Finance Corp. owns the remaining stake.
---
Image: Minera Yanacocha operates a complex of four gold mines and a processing facility.