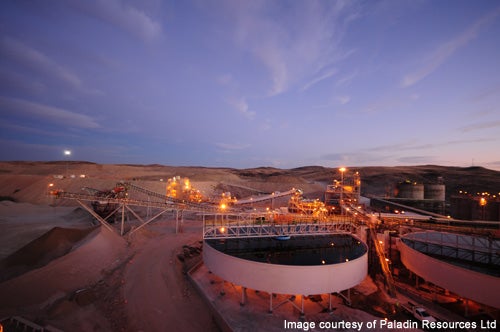 Australian uranium production company Paladin Energy has suspended the sale of a minority stake in Langer Heinrich Mine, the company's flagship uranium project in Africa, as it did not receive an acceptable bid for the sale.
The company had been in negotiations with two nuclear power firms for the sale of a 15%-20% stake in the Langer Heinrich uranium mine in Namibia.
Based on UBS' recent $1.1bn valuation of the mine, a successful sale was expected to fetch between $165m-$220m, reported AAP.
Paladin believes that the strategic value of the asset did not reflect in the offer price given the present low spot uranium price of about $34.5/lb.
The company will instead use a shareholder-diluting $88m capital raising to reduce debt load of about $670m.
The company said in a statement that it will resume the sale process once uranium price reaches to at least $70/lb.
Langer Heinrich, which has a mine life of more than 20 years, is a technologically advanced project that is currently operating above nameplate capacity with further expansion capacity.
The uranium mine produced 5.3 million pounds out of the company's 8.26 million pounds of output in the year up to 30 June.
Meanwhile, the company is planning to write down the value of its assets, including the other producing mine, Kayelekera in Malawi, by $180m.
Paladin's sales for the June 2013 quarter were 2,325,000lb U3O8 generating revenue of $107.4m, representing an average sales price of $46.22/lb U3O8.
Sales for fiscal 2013 were a record 8,253,131lb U3O8 with revenue of $408.4m, generating an average price of $49.48/lb U3O8.
---
Image: Langer Heinrich has a mine life of more than 20 years. Photo: Paladin Resources Ltd.