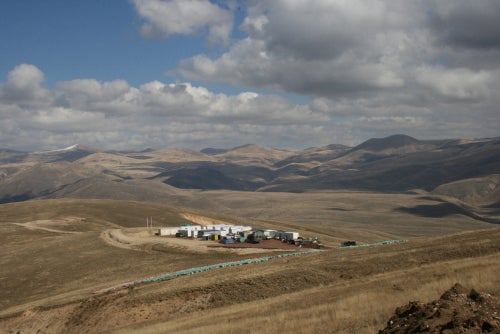 Mineral exploration and development company Lydian International has obtained a new mining license contract for the Tigranes/ Artavazdes open pit at its Amulsar gold project from The Government of Armenia.
The company acquired the project last week through the purchase of Armenian company Geoteam.
The licence was granted following a technical health and safety review in March 2012 and an Environmental Impact Assessment in July 2012.
The Tigranes/ Artavazdes open pit has indicated resources of 68.2Mt at 1.0g/t Au and inferred resources of 36.1Mt at 0.9g/t Au based on a 0.40g/t gold cutoff grade.
The new mining license is valid until 2034 with extensions permitted as new resources are approved. The company's current mine development is scheduled for 2015.
Lydian can now undertake construction at the mine for a period of four years and produce 2.6 million tonnes of ore annually.
Lydian president and CEO Dr Tim Coughlin stated that the latest milestone serves to drive the company's strategy towards producing gold at Amulsar and showcases the Armenian government's support to the mineral industry in the country.
"These are busy times for Lydian and Amulsar. This month we plan to provide the Government of Armenia all necessary documentation for its independent review of the Environmental and Social Impact Assessment."
"Drilling also continues with the aim of adding to the current reserve by converting in-pit resources," Dr Coughlin added.
---
Image: Lydian will develop the Amulsar gold project having secured a new license. Photo: Lydian International Ltd.