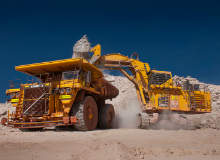 Israel-based dripline solutions manufacturer Netafim launched a new monitoring and control solution to help improve operational productivity and optimise the leaching methods used by mines.
The new system consists of software, hardware and support equipment, providing real-time control and monitoring of the leaching process by using radio and cell-based technology.
Using this system will enable mine operators to remotely monitor solution flow onto the pad, and respond to any issues accordingly.
The Commission for Environmental Assessment of the Antofagasta Region in Chile approved Codelco's $5.4bn Radomiro Tomic sulphides (RT sulphides) project in Atacama Desert.
RT sulphides is part of Codelco's portfolio of structural projects.
The company originally filed an environmental impact study with the environmental evaluation service (SEA) for its project in May 2013.
Codelco corporate affairs and sustainability vice-president Patricio Chavez said: "Environmental approval RT sulphides realise learning, adjustments and improvements that the project has had in these 32 months of evaluation.
Coal India" class="thirdleft" src="https://www.mining-technology.com/wp-content/uploads/image-digitalinsightresearch/Archive/nri/mining/news/Jan%2016/Coal_Jan14.jpg" />
Coal India is preparing for a technology overhaul to bring it in line with global mining practices implemented by companies in countries such as the US and Australia.
The latest move comes as the government is set to open up commercial coal mining to private companies in the sector.
Furthermore, the company plans for technology upgraded as it is planning to increase its output to one billion tonnes by 2020.
Kumba Iron Ore, a business unit of Anglo American will cut a total of 3,933 jobs as part of its plan to restructure the Sishen mine located in central South Africa in Kathu, Northern Cape.
The company began its retrenchment consultation process which will affect the employees and contractors working at the iron ore mine.
Kumba Iron Ore has already started the consultation process as per the section 189 and 189A of the Labour Relations Act on workforce reductions for 1,300 contractors and plans to extend it to 2,633 direct employees.
Nordic Mining and partners has launched a research programme to assess the potential of extracting minerals from the seabed in Norwegian waters over the next five years.
Participants in the MarMine research programme also include Nordic Ocean Resources, along with 13 other industrial companies and research institutions.
The project is being backed by Nkr25m ($2.81m) in funding from the Norwegian Research Council and coordinated by the Norwegian University of Science and Technology.
Australia-based freight operator Aurizon has signed a new contract with Syntech Resources for the rail haulage of coal from the Cameby Downs mine to the Port of Brisbane.
The mine is located in south-east Queensland, 360km north-west of Brisbane, and is connected to the Port of Brisbane by the south-west rail corridor.
Under the two-year agreement, Aurizon will haul up to 1.7 million tonnes per annum (Mtpa) of coal, starting on 1 February 2016. It also includes the option for an extension of another two years.
PotashCorp has announced the suspension of operations at its $1.51bn Picadilly potash mine operation in Canada's New Brunswick as part of its efforts to cut costs.
The company's latest decision comes amid weak global markets for potash and is expected to result in a workforce reduction of around 420-430 people in New Brunswick.
The company plans to retain 35 employees at Picadilly to keep the operation in care and maintenance mode.
Anglo American has signed an agreement to sell its 100% interest in the Callide thermal coal mine in Queensland, Australia, to Batchfire Resources.
Callide comprises an open-pit thermal coal mine, as well as associated processing infrastructure that produced 7.6Mt of coal in 2014.
Callide mine supplies low sulphur, sub-bituminous thermal coal primarily for Queensland's domestic power generation. It comprises the Southern area of Dunn Creek, Trap Gully, the Hut pits and the Boundary Hill pit.
The Chinese Government is planning to close a total of 4,300 small or inefficient coal mines across the country.
China has agreed to provide of $4.6bn funds over the next three years to support the closures.
In addition, China is planning to slash production capacity by 700 million tonnes a year over the next three years.
Rio Tinto" class="thirdleft" src="https://www.mining-technology.com/wp-content/uploads/image-digitalinsightresearch/Archive/nri/mining/news/Jan%2016/Bengalla.jpg" />
Mining major Rio Tinto has signed an agreement for the sale of its Mount Pleasant thermal coal assets in the Hunter Valley in New South Wales to Mach Energy Australia in a transaction worth $224m.
The latest move follows the company's announcement made in September 2015 regarding the sale of its 40% interest in the Bengalla coal joint-venture in Australia to New Hope for $606m, and brings the total divestment amount to $830m.
Rio Tinto copper and coal chief executive Jean-Sébastien Jacques said: "These agreements for over $800m in asset sales deliver significant value for our shareholders, with the potential for future royalties from Mount Pleasant.