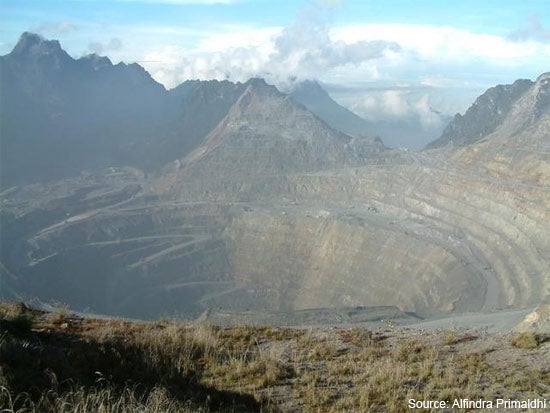 A committee appointed to investigate the recent tunnel collapse at Freeport-McMoRan Copper & Gold's Grasberg mining complex is expected to submit its findings to the Government of Indonesia in the coming days.
Ridho Wattimena, head of the government-appointed panel, told Bloomberg that the committee will submit its report to the Ministry of Energy and Mineral Resources by this weekend or early next week.
"Our task is to find the cause and how to avoid such accidents from happening again in the future," Wattimena said.
"The rest will be decided by the government."
Freeport ceased operations at its mining complex in Papua on 15 May due to a tunnel collapse in a training facility near its Big Gossan mine that killed 28 people. A few days later operations recommenced at the mine.
Following a second tunnel collapse that killed one worker on 31 May, the government declared that the mine would be closed until the probe has been completed.
According to the company, the production halt at its Papua mine has reduced the per-day output by around 1,361t of copper and 3, 000oz of gold.
On 12 June, the Phoenix-based miner declared a force majeure to extricate itself from the obligations of delivering copper from its Grasberg mining complex.
Meanwhile, a workers trade union has announced that it will call for a strike if Freeport fails to suspend those responsible for the tunnel collapse.
Papua-based union official Virgo Solossa told Reuters that the union submitted a letter to the company's management stating that it has identified five officials responsible for the tunnel collapse.
"They have to be sent home while the investigation on the cause of the accident is still under way.
"We have set a deadline of June 14 for the management … we will then ask all workers to stop work and withdraw from the operations site," Solossa said.
Freeport is holding talks with union leaders to reconsider the strike as the company is already battling to restore profitability.
---
Image: The Grasberg Open Pit, originally a 4,100m-high mountain, has been mined down to 3,000m. Photo: Courtesy of Alfindra Primaldhi.