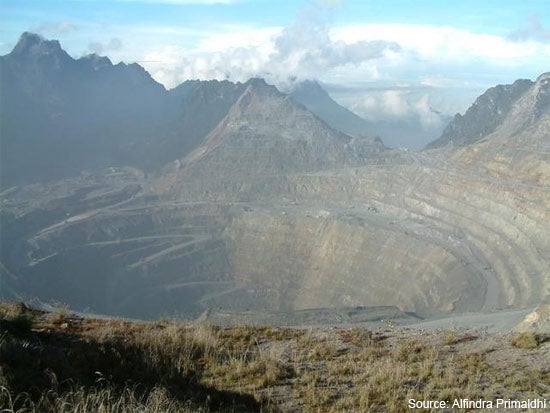 Freeport-McMoRan Copper & Gold will halt operations at its Grasberg mine complex in Indonesia until government investigations into two fatal blasts are completed.
The Energy and Mineral Resources Ministry's coal and minerals director general Thamrin Sihite said production will stop for three to four months at open pit and underground mines at Grasberg, although Freeport will be allowed to ship iron ore concentrate from the existing stock, reports Bloomberg.
During the investigation, the company would only be allowed to conduct maintenance activities.
Freeport first stopped operations at its Grasberg mining complex on 15 May after a tunnel collapsed in a training room at the Big Gossan underground mine, killing 28 people and injuring four others.
The company resumed operations at the complex on 29 May with government approval. But disaster struck again when a second tunnel collapsed two days later, prompting the mining authorities and a workers union to call for the site to be temporarily shutdown.
One worker is reported to have died in the second tunnel collapse.
Grasberg holds the world's second-largest copper mine about 140,000t of copper ore per day, while the output from its underground operations is about 80,000t.
The decision by the Indonesian Government to halt operations at the Grasberg mine is expected to cut nearly 125,000t of copper from the international supply chain.
The Grasberg mine disasters have come at a time when the company is planning to obtain a contract extension beyond 2021 as part of its strategy to turn Grasberg into the largest underground mining complex in the world after 2016.
---
Image: The Grasberg Open Pit, originally a 4,100m-high mountain, has been mined down to 3,000m. Photo: Alfindra Primaldhi.