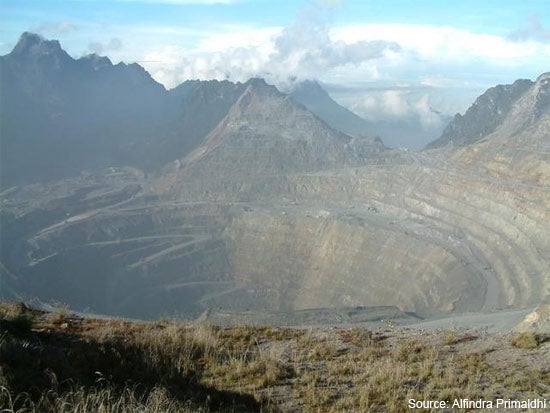 Freeport-McMoRan Copper & Gold has resumed full scale open-pit mining operations at its Grasberg complex in Indonesia, which was shut down following a tunnel collapse that killed 28 people.
Operations were ceased at the mining complex in Papua on 15 May when an underground training facility collapsed near its Big Gossan mine.
With government approval and the completion of investigations, open pit mining and concentrating activities have now resumed at full scale.
Last month, the company could begin only 60% of open-pit mining operations.
The company, however, is yet to receive clearance for its underground operations and is currently working with government authorities.
A member of the government team, which is in discussions with Freeport over the mining contract, said that the accident should not delay the talks.
After the fatal collapse, Freeport resumed production on 28 May, despite a strong opposition from the workers' trade union, who sought complete investigation into the accident.
A few days later, one worker was killed in a separate accident, which prompted both the government and the workers' union to call for a temporary shutdown at the Grasberg mine complex.
Following the accidents, Freeport declared force majeure on copper shipments.
The Grasberg complex, the world's second largest copper mine, is located some 60 miles north of Timika, at Tembagapura in Irian Jaya.
The six-week closure of the complex is estimated to have cost Freeport about 52,000t of copper and 115,000oz of gold.
Before the closure, the daily copper ore output from open-pit mine touched approximately 140,000t, while the output from its underground operations was about 80,000t.
---
Image: The Grasberg open pit, originally a 4,100m-high mountain, has been mined down to 3,000m. Photo: Alfindra Primaldhi.