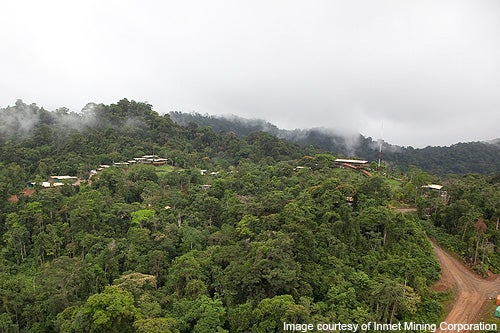 First Quantum Minerals has ended a six-month battle to takeover Vancouver-based Inmet Mining for C$5.1bn ($4.98bn).
The company announced on Friday that 60.12 million shares, representing 85.5% of outstanding Inmet shares, have been validly tendered.
First Quantum said it had taken up and accepted for payment all the tendered shares and will pay for such shares on or before March 27.
The copper giant also extended the offer to 17:00 Eastern Daylight Time, on April 1, to allow the remaining Inmet shareholders to tender their shares to the offer.
First Quantum Minerals said that the merger will create "one of the world's leading copper producers" with geographically diversified operations and development projects in eight countries across four continents.
Acquired assets as a result of the takover include the $6.2bn Cobre Panama project, one of the largest untapped copper deposits in the world.
The company expects the project to begin producing on schedule and forecasts pro forma revenues in 2013 of $3.5bn. Production is planned to be more than 1.3 million tonnes per annum of copper by 2018 in the post-acquisition scenario.
First Quantum's chairman and chief executive officer Philip Pascall said the transaction is a substantial advancement in thier long-stated objective of geographical diversification.
"We are now focused on turning the vision into reality by putting together the great strengths of both companies – their high-quality mining assets and their equally high-quality human resources – to create a new global leader in copper with a far broader and more geographically diversified and dynamic portfolio of operating and development assets than either company on a standalone basis," Pascall added.
"The combined group now has the management team and financial capacity to ensure that our strategic target of 1.3 million tonnes of copper production per annum within the next five years is achieved".
---
Image: The Cobre Panama mine is located approximately 120km west of Panama City. Credit: Inmet Mining Corporation.