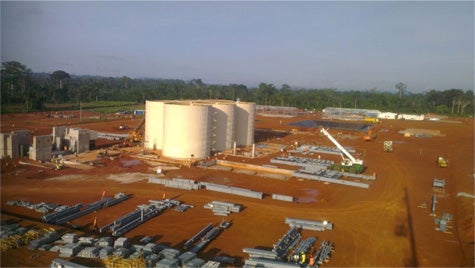 Endeavour Mining has revealed feasibility study (FS) results of its Houndé gold project in Burkina Faso, which could achieve yearly production of about 180,000oz with an initial investment of about $315m.
The study found that Houndé could achieve yearly production of some 178,000oz over an eight-year life-of-mine, with the project producing a total of 1.44 million ounces.
The project currently has a proven and probable reserve of about 25 million tonnes, grading 1.95g/t gold.
The Houndé project FS focused on the Vindaloo group of deposits that are situated about 250km South-west of Ouagadougou, the capital city of Burkina Faso.
Endeavour Mining CEO Neil Woodyer said at a $1,300 gold price, Houndé has an attractive after-tax IRR of 22%, illustrating strong cash flow generation.
"The project also benefits from excellent infrastructure, our current Agbaou mine building expertise, and our Burkina Faso operating experience at Youga," Woodyer said.
Endeavour, through its subsidiary Avion Gold (Burkina Faso), has a 100% interest in the approximately 1,000km² Houndé gold project, located in the south-western region of Burkina Faso.
After achieving production, Endeavour will own a 90% stake in the project, while the remaining 10% will be held by the government of Burkina Faso.
The project permitting process, which has now been started, is expected to take six to nine months to complete.
Engineering, procurement and construction is anticipated to take 21 months from board approval to first gold.
Woodyer said, "While work continues on obtaining the Houndé mining permit, we are evaluating how best to integrate Houndé into Endeavour's production growth plans."
Endeavour Mining's annual gold production is expected to cross 400,000oz per year during 2014, including the start-up of production at the Agbaou Gold Mine in Cote d'Ivoire, which is scheduled for the first quarter of 2014.
---
Image: Endeavour Mining's Agbaou Gold Mine in Cote d'Ivoire. Photo: Courtesy of Endeavour Mining.