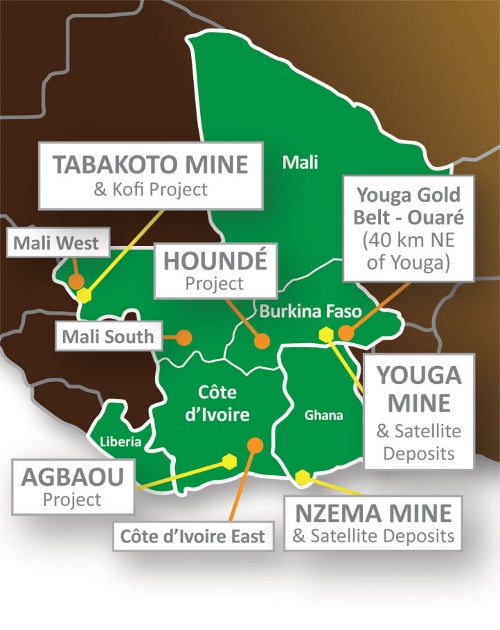 Endeavour Mining will acquire all issued and outstanding common shares in Avion Gold via a court-approved plan of arrangement.
The acquisition, valued at C$389m, is expected to help Endeavour increase its forecast gold production by 50% to up to 304,000oz for 2012.
The company's proven and probable gold reserves will see an increase of 31% to 2.8m oz while measured and indicated gold resources are set to increase by 52% to 6.0m oz.
The all-share transaction, wherein each Avion common share is exchanged at 0.365 of an Endeavour common share, is expected to close in October 2012.
Endeavour CEO Neil Woodyer said that the acquisition of Avion complements the company's strategy to become a diversified West African gold producer.
"Avion's Tabakoto Mine and Kofi property in western Mali and the advanced Houndé property in Burkina Faso fit very well into Endeavour's production and development portfolios," added Woodyer.
"At closing, Endeavour's gold production immediately rises to approximately 300,000oz per year and, including the Tabakoto mill expansion and completion of Agbaou construction, our gold production is forecast to reach approximately 450,000oz per year."
Endeavour will provide a $20m short-term exchangeable loan to Avion to upgrade and restart the Tabakoto mill in Western Mali.
Avion's owns an 80% stake in the Tabakoto mill, which is expected to produce between 95,000oz and 102,000oz in 2012.
The aquisition adds 1,800km² of exploration ground to Endeavour's reserve in addition to increased operating and geographical diversification with mines in Ghana, Burkina Faso, western Mali and Côte d'Ivoire.
---
Image: Endeavor is expected to increase its gold mining prospects in Africa. Photo: Endeavor Mining Corporation.