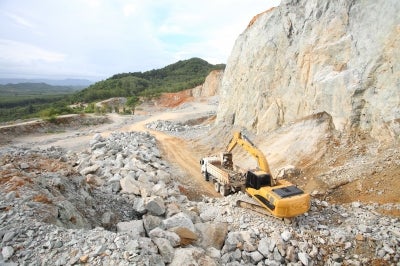 Australian mining companies Baru Resources is set to make an agreed off market takeover offer for Argosy Minerals.
Under the agreement, the shareholders of Argosy will receive one new share of Baru for every one share of Argosy.
This deal, requiring approval from the regulatory authorities, will create a combined group with net cash and semi-liquid reserves of $3m held by Baru, along with the potential of the Argosy's graphite project in Namibia.
Argosy stakeholders will hold 72% in the merged entity, with Baru shareholders owning the remaining stake.
Infrastructure and materials company India Globalization Capital (IGC) has inked a letter of intent (LOI) to acquire a 25% stake in an iron ore mine located in Aohan Banner, Inner Mongolia.
The agreement also includes acquisition of a 25% interest in a nearby beneficiation plant.
IGC's Hong Kong-based subsidiary will take a 25% interest each in Aohan Banner Delin Iron Separation, that owns the mine, and in Aohan Banner Hengli Mining, that owns the processing plant.
The transaction is expected to be completed in the July-September quarter.
The mine has estimated reserves of 4.17 million tonnes of iron ore, with iron content averaging 20-30%.
British Virgin Islands-based Taurus Gold has inked a joint venture (JV) deal with Randgold Resources to explore and develop the Bakolobi gold project.
The Bakolobi gold project is located 30km south of Randgold's Loulo mine, in south-west Mali.
Under the JV agreement, Randgold would fund a prefeasibility study for the project.
Initially, Randgold will hold a 51% stake in the JV, which can increase to 65% if Taurus is unwilling to undertake a feasibility study or fails to fund its share of the cost.
Following the completion of the feasibility study, both the companies will have to fund their proportionate share for the development of the mine.
Dual listed Brockman Mining has hired rail freight operator Aurizon to develop and operate the infrastructure required for its Marillana and Ophthalmia iron projects in the Pilbara region of Western Australia.
Under the deal, Aurizon will develop and operate all rail and other related heavy rail infrastructure required by the Australia and Hong Kong-listed mining firm.
Additionally, in order to develop and operate the port facilities, Aurizon will use the North West Infrastructure (NWI)'s port allocation.
North West Infrastructure is a joint venture established between Atlas Iron and FerrAus and Brockman.
The three-year agreement will help in providing a rail haulage and port solution for transporting and exporting iron ore manufactured by Brockman.
A junior uranium mining company Ur-Energy has inked an agreement with a US-based nuclear operating company for the supply of uranium concentrate.
According to the deal, the company will supply between 200,000lbs and 300,000lbs of uranium concentrate each year under a
multi-year schedule beginning 2017.
Uranium will be supplied under the fixed pricing structure.
---
Image: This week saw several mining deals being signed. Photo: Courtesy of Wandee007.