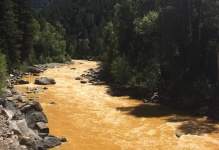 Mining veteran Todd Hennis has been warning of an environmental disaster occurring in Bonita Peak for more than a decade. What he didn't expect, was that it would be one of his mine sites where it would occur.
On 5 August 2015, a number of contractors working on behalf of the Environmental Protection Agency were working on the Gold King mine to investigate pollutants and caused a spill that would send 3 million gallons of water down the mountain and into the Animas river basin.
In the aftermath of the spill, the river, which locals fish and kayak on, turned mustard yellow for miles. Having failed to inform state authorities that it had occurred until days later, the EPA publicly admitted that it had caused it, apologised, and vowed to take responsibility for the clean up.
"I felt like my life as I know it was over. I knew that the EPA was working up there and that they had somehow triggered this."
Mr Hennis, who was in upstate New York visiting family having decided to keep out of the EPA's way while it worked, learnt what had happened when he opened an e-mail from his lawyer with photos showing the full extent of the accident. "I felt like my life as I know it was over. I knew that the EPA was working up there and that they had somehow triggered this," he explains.
While the full details of just what contributed to the spill are to be determined – the U.S. Department of Interior has announced that will carry out a full and independent review of the incident and any contributing factors – it has been confirmed that both the amount of water and the pressure it was under in the Gold King mine were far higher than expected.
Warnings went unheeded for more than a decade
For Hennis, this came as no surprise. For years, he has warned that the practice of bulk heading abandoned sites – where a barrier is installed to stop wastewater flooding – has resulted in water from one mine being transferred to others. In a site such as Bonita Peak, host to mining operations on multiple sites for more than a hundred years, the risk is particularly heavy, he claims.
"Bonita Peak, where the Sunnyside, Gold King, Mogul and other assorted mines are located, is so fissured, faulted and fractured that bulkheading had zero possibility of working without discharging out of the adjacent properties."
In particular, Hennis identifies the Sunnyside mine as having strong connections through the mountain to Gold King. He explains that analysis of the water in Gold King shows that the minerals present reflect those extracted at Sunnyside rather than Gold King. "It's very high in zinc, cadmium, manganese, copper and lead, whereas the Gold King mine has almost no base metal mineralisation."
In a statement, Sunnyside owner Kinross has denied that it is responsible in any way for what occurred at Gold King. "Sunnyside Mine workings have no physical connection to the Gold King, and such a connection never existed. Sunnyside is not the cause of the water buildup at Gold King," said company reclamation manager Larry Perino.
---
---
Coal company Frasure Creek Mining stands accused of manipulating water pollution reports.
---
However, in one of many follow ups to its initial statement about the incident, the EPA has stated that it is not possible to rule out that it was caused by the accumulation of wastewater from other mines into another.
Instead of bulk heading, Hennis argues that the only responsible way to treat the polluted water in the mines is through a process of dewatering – a route proven successful in the past by Newmont Mining in the reclamation of the Idorado mine. It is this approach that Hennis believes must be taken to resolve the situation at Gold King in the long term: "At this point in time, the only solution is to carefully de-water the Sunnyside mine pool and treat the water over time."
So soon after the spill itself, efforts and attention are still rightly tuned to securing Gold King and ensuring there are no long term impacts of the spill on the water quality in the area as a result of the spill. However, in the longer term, Hennis argues that unless bulk heading is stopped and replaced with a solution that tackles the various mines, faults and drill tunnels that thread throughout the area, then there may be bigger problems around the corner.
"I believe that from everything that I have seen, with the bulkheads under so much more pressure than anyone could have anticipated and that if they fail in a seismic event or just from hydrostatic pressure, we'll have billions and billions of gallons of water go down the Animas."