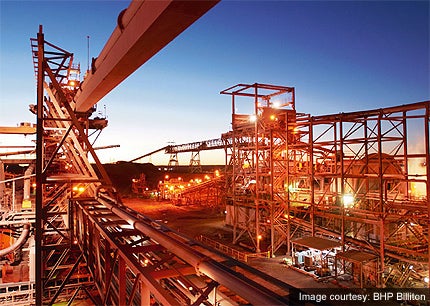 Global mining company BHP Billiton has announced that it will delay its proposed $20bn Olympic Dam expansion project due to tough market conditions and "subdued" commodity prices.
The company said it will investigate an alternative, less capital-intensive design to the open-pit copper expansion, involving new technologies to improve the economics of the project.
"As a result [BHP] will not be ready to approve an expansion of Olympic Dam before the Indenture agreement deadline of 15 December 2012," the company said in a statement.
BHP will also delay the approval of all major projects until 2013, as it battles rising capital costs.
BHP Billiton CEO Marius Kloppers commented, "As we finalised all the details of the project in the context of current market conditions, our strategy and capital management priorities, it became clear that the right decision for the company and its shareholders was to continue studies to develop a less capital-intensive option to replace the underground mine at Olympic Dam."
"As with any capital commitment, all investment options are scrutinised as they move through our approvals process and our highest returning projects are prioritised. Value is always our primary consideration. We believe today's decision reflects an appropriate, prudent and disciplined course of action," added Kloppers.
The news comes on the same day BHP reported a fall in profits for FY2012 ended 30 June 2012, a first in three years.
Attributable profit was down 35% as demand for commodities – particularly coal, copper, nickel and aluminium – slowed in China, the biggest buyer of Australian exports, and around the rest of the world.
BHP also reported a net operating cash flow of $24.4bn, down 19% compared to the previous year.
---
Image: BHP Billion will delay of the expansion of the Olympic Dam project. Photo courtesy of: BHP Billiton.