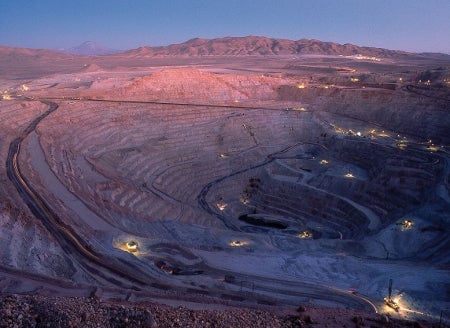 Global metals and minerals producer BHP Billiton has forecast a 10% annual growth in its copper production until the end of 2015.
The company said it remains positive with regard to its long-term outlook for copper given the strong demand from emerging markets like China and India.
BHP Billiton, the world's third largest copper producer and operator of Escondida, the world's largest copper mine, anticipates copper production growth of more than 350ktpa to end fiscal 2015.
Applications of copper in the electrical and power industries in addition to demand from consumables, urbanisation and replacement are largely contributing to the growth.
The firm said in a statement, "Substantial mineralisation totalling 27.1bt and a significant commitment to Andean copper belt exploration will ensure BHP Billiton remains a leading and highly competitive producer in the long term."
Base metals are an important part of the company's portfolio with diversified assets in established and stable geographies.
The company, however, expects to reduce costs through reductions in general overheads, dilution of costs over a larger base and production enhancement in the next fiscal year as cost inflation continues to affect the mining industry globally.
BHP Billiton further seeks to reduce operating costs and non-essential expenditure considerably by implementing additional measures while re-assessing high-cost operations.
---
Image: BHP Billiton will increase production of copper in response to rising demand. Photo: BHP Billiton.