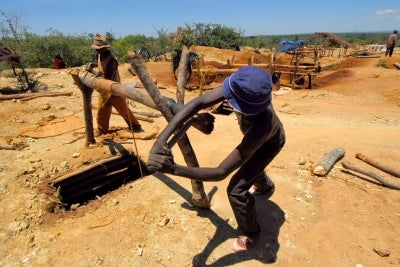 Anglo American Platinum (Amplats), the world's biggest platinum producer, has announced that it will proceed with its plans to cut 7,000 jobs at its South African operations as part of its restructuring strategy.
After a review with the Department of Mineral Resources and recognised unions, the company, which employs 100,000 staff worldwide, has decided to slash 6,000 employees and 900 corporate and overhead staff.
Amplats initially planned to slash 14,000 jobs in 2012 but it had to scale back to 6,000 under a revised business proposal, following pressure from the government and unions.
The company's restructuring programme was 'aimed at restoring the company's profitability, ensuring its long-term sustainability and boosting its competitiveness in the global platinum mining industry'.
Amplats CEO Chris Griffith said the move will enable the company to return to profitability and focus capital allocations on its mines.
"A month's notice period for affected employees will commence on 1 September," Griffith said.
As part of the restructuring plan, Amplats would reduce its baseline production to between 2.2 million and 2.4 million ounces a year in the short to medium term.
The mining giant also intends to consolidate its Rustenburg operations into three operating mines by integrating the Khuseleka 2 and Khomanani 1 and Khomanani 2 mines into surrounding mines.
Following these changes in marginal operations, the total production capacity will be reduced by about 250,000 ounces per year and by an additional 100,000 ounces per year in the medium term.
Meanwhile, it's Union North and Union South mines would be consolidated into one mine, with the disposal of the mine still planned to take place in due course.
"Once we have restructured the business, we expect to be in a better position to provide more secure employment for our employees and add the much needed value to all our key stakeholders," Griffith concluded.
The decision to cut jobs has not been supported by the National Union of Mineworkers, in turn raising the risk of strike action.
With elections in the country slated for next year, the issue of job cuts has become a sensitive subject as firms and workers unions argue over wages.
National Union of Mineworkers spokesman Lesiba Seshoka told Reuters that according to the agreement reached with Amplats a week ago, 3,000 jobs would be cut and those jobs would not be forced retrenchments but voluntary severance packages.
The union considers the company's latest decision as a betrayal of this agreement.
---
Image: Job cuts are a sensitive subject in South Africa, especially with elections on the horizon. Photo: Courtesy of Africa/Freedigitalphotos.net.