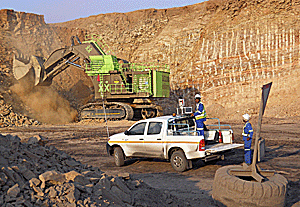 UK-based 3D Laser Mapping will supply its VZ 1000 long-range laser scanner to South African miner Exxaro to support several expansion projects and the construction of two coal processing plants.
The technology involves a high-speed laser scanner that works by employing echo digitisation and online waveform analysis.
Exxaro purchased the scanner to survey stockpiles, conduct height analysis on earth works and blasting, and collect accurate measurements for terrain mapping and modelling.
The laser scanner is expected to be deployed at the Grootegeluk Mine, located in the Limpopo Province of South Africa.
The mine, covering an area of 6,500ha and pit size of 820ha, produces 18.8Mtpa of final coal products using conventional truck and shovel operations.
Exxaro Grootegeluk coal mine chief surveyor Thys Smith said that the company plans to enhance productivity using cost-effective solutions without additional surveyors for ongoing as well as future expansion projects.
"The obvious solution was laser scanning. Critical factors in my choice of scanner were safety, accuracy, speed of operation and confidence in the resulting data. Cost was also a consideration in the selection of the VZ 1000," Smith added.
"The VZ 1000 will also allow us to manage risk, minimising surveyor contact with moving equipment and potential fall of grounds and reducing the need to work at height."
The 3D Laser Mapping's solution will also minimise staff exposure to risks in the open pit mine, which employs nearly 2,000 people.
---
Image: Exxaro will use RIEGL VZ 1000 for mine expansion activities. Photo: 3D Laser Mapping.