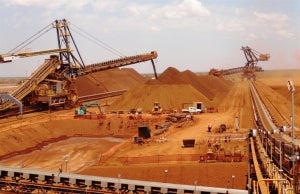 Fortescue Metals has taken over the management and supervision of its two ore processing facilities at Christmas Creek mine, in the Pilbara region of Australia, following a fatality in August this year.
The company will immediately assume management and supervision of two processing facilities at the Christmas Creek mine, from contractor Crushing Services International Pty Ltd.
A company statement issued on Tuesday said the move would "ensure the safe and hazard-free operation of the ore-processing facilities".
Fortescue also said it had the full cooperation of contractor Crushing Services International (CSI) and its parent company Mineral Resources Limited.
The change in management will entail a brief ramp-down at both ore processing facilities during the transition of management, but full-year production targets would not be impacted.
All CSI employees will be retained as employees of CSI, but would work under the management and supervision of Fortescue.
The fatality at Christmas Creek mine, which is primarily a contractor-based operation, was the state's first mine-related death in two years.
A man in his mid-twenties sustained fatal crush injuries while working in an ore processing plant onsite.
Mining operations at the incident site were suspended immediately and a team of DMP mines safety inspectors sent to investigate.
---
Image: Stacker, Reclaimer and Conveyor System at Christmas Creek – November 2011. Photo courtesy of Fortescue.