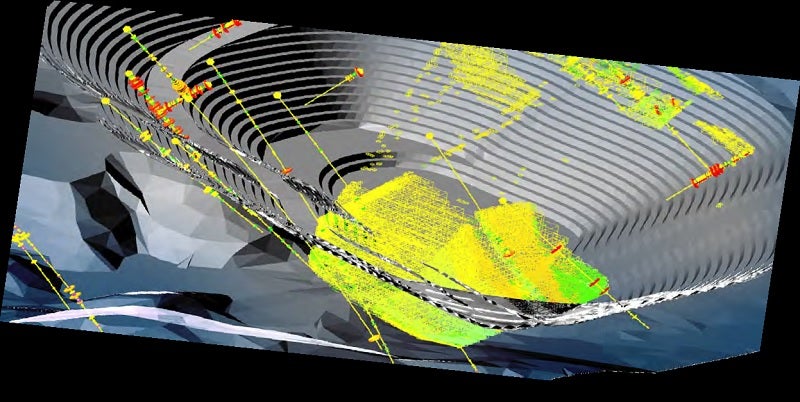 Vulcan plays a critical role in the mining process, from exploration and geological modelling through mine design and scheduling to rehabilitation.
Powerful block modelling and integrated tools for survey, drill and blast, grade control, geotechnical analysis, geostatistics, scheduling and optimisation make Vulcan the complete mining software package.
Maptek applications provide a common platform for geological, geotechnical and engineering teams. Reliable, repeatable results are derived from running multiple scenarios for streamlined transformation into safe and economical mine plans.
Vulcan can visualise and manage very large complex data sets, analyse the information and rapidly generate models. Sophisticated algorithms and fast processing allow virtually instant validation of data for building and maintaining up-to-date orebody models.
The intuitive environment for visualising designs and models in 3D allows users to easily run animations and explore alternative scenarios based on various resource and economic values. This is the most productive approach to developing practical mine plans that maximise resource recovery.
Vulcan provides the tools to model the resource and design the mine, dynamically updating plans as data changes. Interpretations and results can be shared with confidence that they will reliably guide productive and profitable mining.
The Maptek Workbench supports all Vulcan functionality, as well as providing ready access to database, text editing, scripting and spreadsheet applications. Users can create custom workflows incorporating all applications within the Workbench, providing a universal platform for Maptek customers.
Exploration & Resource Evaluation
Vulcan offers an interactive 3D visualisation and modelling environment to create and assess exploration models. Users can manage and validate drillhole, assay, geophysical, lithological and analytical data.
Mine Design & Development
Vulcan mine design tools allow users to design optimal mine plans that ensure a profitable production phase. Users can forecast machinery allocation, engineer the best road design and analyse productivity scenarios before operations begin.
Mine Operations
Developing an operational mine is a costly and complex process. Vulcan assists in refining geology and resource models, calculating reserves, developing short and long term plans and scheduling operations.
Accurate, reliable and timely data is important for mining success. Continually feeding the knowledge gained from analysing that data into the mine plan ensures all departments are working off the same operational plan. Audit trails provide a mechanism for analysing ways to improve performance.
Optimisation & Scheduling
Integrated mine planning is critical for ensuring that schedules are configured using the latest data. Maptek tools feature a user-friendly interface to streamline the setup and configuration of schedules. Workflows close the loop between mine designs and production schedules. Preview, animation and reporting options allow plans to be clearly presented.
As the world's premier 3D mining software solution, Vulcan enables users to validate and transform raw mining data into dynamic 3D models, accurate mine designs and operating plans.
PDF Available