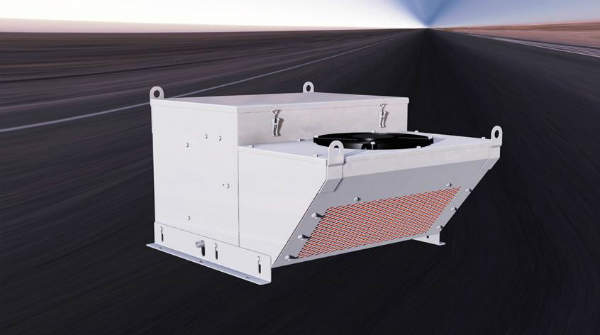 P-5070
The P-5070 rooftop-mount, self-contained climate control system is designed for rough environments and extreme high-temperature conditions found at mine sites worldwide.
The high-capacity, air-conditioning unit is engineered for ambient temperatures of 50°C / 122°F. The system creates a dust free and temperature controlled environment to help reduce operator fatigue. It requires very little maintenance because of its robust design and heavy-duty stainless-steel construction.
Features of the P-5070 include a digital automatic control system, a heating capacity of 12,000BTU (3.3kW), and high-output cooling capacities with configurations ranging from 24,000BTU to more than 30,000BTU of cooling (depending on compressor drive).
P-9977
The P-9977 rooftop air-conditioning unit is a digital automatic control system with high-output cooling capabilities. It is available in four models, including:
P-9977-H-24P Rooftop HVAC 24V DC (requires remote compressor)
P-9977-H-24HD-OC Rooftop HVAC 24V DC Integral Hydraulic Compressor Open Centre
P-9977-H-24HD-CC Rooftop HVAC 24V DC Integral Hydraulic Compressor Closed Centre
P-9977-H-24ED Rooftop HVAC 24V DC Integral 24vdc Compressor System
The unit requires a 30amp fused circuit at 24V DC (full load) and features a three-speed cab air flow rate of 490CFM, 320CFM and 245CFM in either automatic or manual setting, as well as a heating capacity of 30,000+ BTU / hr at 180°F engine coolant temperature.
The system is also available with optional extras, such as the Sy-Klone RESPA ® CF cab pressuriser filter system with cab pressure monitor, Sy-Klone RESPA ® CFX cab recirculation filter system, engine-driven compressor, and hose installation kit.
For more information, please download the product specification pages below.