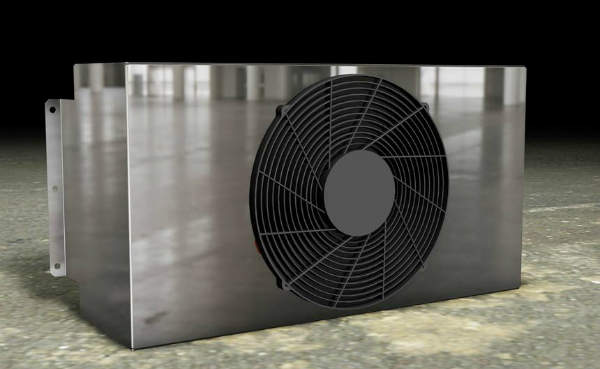 P-1900
The robust P-1900 condenser has been developed for use in any high-dust or vibration application, including haul trucks, graders, dozers, and loaders used in mining applications.
The unit is designed to replace conventional radiator-mounted condenser systems and can be incorporated into the factory cab air-conditioning system and controls.
The digital automatic control system includes high cooling capabilities, as well as 50,000BTU condenser capacity, copper / copper corrosion resistant coils, stainless-steel casing, and a remote mount, which eliminates added heat to radiator and makes the unit easier to service.
P-1325 / P-1326
Polar's P-1325 and P1326 compressor condenser units create comfortable cab working conditions and are suitable for use in harsh temperatures and demanding mining environments.
The stainless-steel units offer more than 24,000BTU/h (7kW) at 80°F / 26.7°C wet bulb cabin air at 95°F / 35°C ambient temperature. The system includes copper / copper anti-microbial high-capacity coils and R-13a refrigerant.
P1325 and P1326 units are available in four models including:
P-1325-24HD 24V DC Horizontal Hydraulic Drive Compressor Condenser
P-1326-24HD 24V DC Vertical Hydraulic Drive Compressor Condenser
P-1325-24ED 24V DC Horizontal Electric Drive Compressor Condenser
P-1326-24ED 24V DC Vertical Electric Drive Compressor Condenser
Each Polar air-conditioning unit is manufactured to meet CSA 22.2 NO.210, CSA 22.1 .12, (ASHRAE 79 part II and 84 PART I) ASTM A213 / A269, A1016, SAE J206A, and UL Standard 1063 requirements.
For more information, please download the product specification pages below.