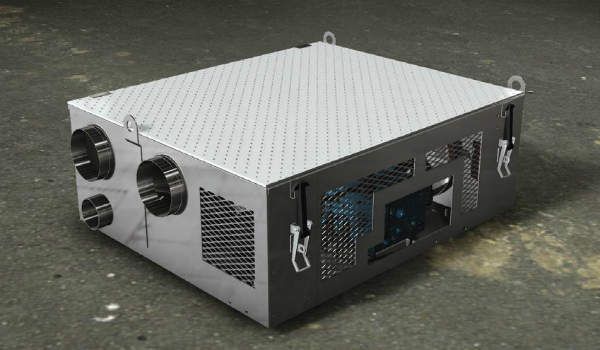 P-1000 FH
The Polar P-1000 FH fully hydraulic mining air-conditioner is designed to suit the rigorous requirements of the mining industry. It is suitable for heavy equipment, such as shovels, dozers, haul trucks, loaders, excavators, drills and underground equipment.
The P-1000 FH requires little maintenance because of its corrosion and vibration-resistant construction and can be installed virtually anywhere.
Built to last, the P-1000 FH helps you get better performance from your operators by creating a comfortable environment that is dust free and temperature controlled.
Because of its modular one-piece construction, the unit is easy to install and swap out between machines, with minimal downtime.
P-1320 / 320
The durable P-1320 / 320 heating, ventilation and air-conditioning (HVAC) split-system is designed for use in challenging mining environments, as well as in extreme temperatures.
The system is encased in a stainless-steel shell, which protects the P-1320 / 320 from vibration and corrosion damage caused by heavy industrial use, extending the lifespan of the unit.
The P-1320 / 320 provides workers with a comfortable working environment, reducing the risk of operator fatigue and helping to optimise productivity. The system is available in three models:
P-1320 / 320-H-230P HVAC SPLIT 200-240V AC single phase 50Hz / 60Hz
P-1320 / 320-230-3P HVAC SPLIT 200-240V AC three phase 50Hz / 60Hz
P-1320 / 320-480-3P HVAC SPLIT 400-480V AC three phase 50Hz / 60Hz
For more information, please download the product specification pages below.