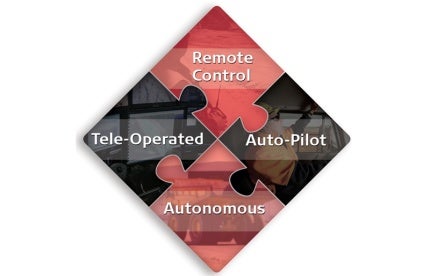 Leica J³autonomous delivers human-assist and autonomous technologies that increase safety, improve productivity, reduce performance variability and maintain consistent production results. J³autonomous levels of autonomy include line-of-sight remote control, auto-pilot and tele-operated functionality.
Leica Geosystems Mining offers an incremental approach to autonomy, ensuring that the autonomous functionality of your mine can grow with its changing needs. This provides operational benefits today, with a clear path to a fully-autonomous operation tomorrow.
Leica J³autonomous is suitable for haul-trucks, shovels, excavators, dozers, support equipment and more, and includes:
Remote control – operators are not onboard the machine but control via a line-of-sight hand-held remote control unit
Auto-pilot – relieves operators from some of the tedious and demanding tasks on a selected path, with the operator remaining onboard
Semi-autonomous or tele-operated – systems allow operators to work from a remote location in a tele-operation centre, while automating portions of the work cycle
Fully autonomous – elimination of human operators with full control via J3autonomous
J³truck
Leica J³truck has multiple levels of autonomous operation for all your hauling needs. These include reversing guidance, auto-steering, auto-spotting, auto-pilot and fully-autonomous. No matter the level of autonomous control you choose, this solution provides operational benefit today, with a clear path to fully-autonomous operation tomorrow.
J³dozer
Leica J³dozer autonomous offers an incremental approach to mine autonomy for track and wheel dozers. J³dozer enables safety and provides productivity benefits for dozer operations, such as ripping, leveling, surge and stock piles and slot and production. Removing the operator from the high impact environment ensures safety is our number one priority.
Leica Geosystems, industry leader in measurement technology, announced today its iCON excavate machine control solutions...