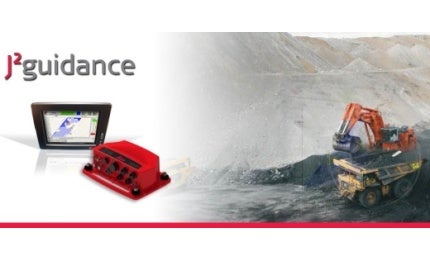 Leica J²guidance is the high-precision GPS guidance solution that seamlessly integrates with the Jfleet fleet management system, providing additional guidance, optimisation and reporting functionality. The hardware platform is built for adverse environments and is OEM independent and interchangeable, allowing it to be moved from machine to machine.
The Leica J²guidance is available for any machine on site.
J²shovel
Leica J²shovel is a high-precision GPS navigation system for loaders, excavators and shovels. With accurate navigation, J²shovel improves bench elevation control, reduces dilution and decreases labor and rework.
J²shovel allows operators to visualise the plan and then work to it. It includes ore navigation and automatically identifies material from grade block model.
Dynamic reconciliation of all planned and mine production
Alarms and safety
J²dozer
Leica J²dozer provides operators with an easy-to-visualise design plan and instant feedback. J²dozer eliminates the need for grade staking and survey crew, reducing rehandle and minimises operation costs.
J²drill
Leica Jigsaw J²drill enables operators to drill to the correct RL the first time. Precise GPS navigation and real-time sensor feedback allows for faster and more informed decision-making.
Accurate hole locations and depths
Pipe-in-hole alarm
Real-time drill performance feedback
J²dragline
Productive operation of a dragline requires accurate, consistent and instant relaying of vital statistics. Leica Jigsaw J²dragline provides 3D, high-precision navigation for less re-handling, less stripping and more product.
A dashboard per dragline with instant relay ensures real-time data and specialised reporting enables efficiency monitoring, production prediction and trend establishment.
Real-time tub and bucket locations
Navigation bucket
Tub slip alarms
User calibration
Leica Geosystems, industry leader in measurement technology, announced today its iCON excavate machine control solutions...