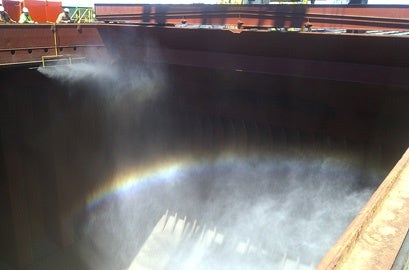 Rainstorm supplies modular dry fog systems with a range of nozzles, as well as component lines and fittings.
The company offers a variety of nozzle-types to deliver fine or ultra-fine sprays so that clients gain the most suitable water droplet size for the material being processed.
All products are made to match the client's specifications, and ensure a minimum lead time, from design and installation to commissioning.
Rainstorm provides several dry fog systems, as follows:
RDC80 dry fog modular systems, with in-house design and construction. They have high-quality custom lines, nozzles, sprays, brackets and bars
High-pressure, high-performance fine sprays that are extremely efficient, to control dust with suppression of ultra fine airborne dust particles
The dust suppression systems can be mounted on to crushers, plant circuits, and ship loading transfer points to fog air close to dust generation points. The mist attaches to dust particles in the air, increasing the molecular weight and causing it to drop.
Rainstorm designs its systems to be economincal, using the minimum amount of water for efficiency and cost-effectiveness.
We have had good feedback from clients and colleagues for over a decade as to...