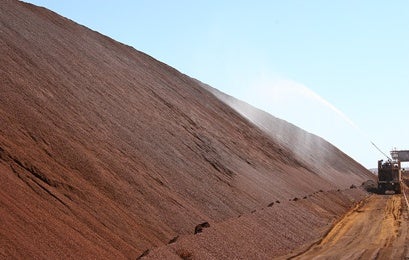 Rainstorm's Gluon™ Veneering is suitable for managing dust on stockpiles, open areas, site rehabilitation, water erosion control, and rail car veneering.
The solution can be sprayed over specific areas to effectively 'glue down' the loose material and prevent dust entering the air.
Gluon Veneering is suitable for a wide range of projects and site conditions with varying conditions. The company offers pump and hose kits for clients to do small-scale, hand-spraying, with dye marking and batching available as an optional extra to indicate treated areas.
Rainstorm also offers a range of solutions for large projects. The company supplies tank farm systems, such as bunded batching, lines and sprays, which can be supplied to match the client's procedures, existing site equipment and project needs.
Water blending and application rates vary depending on the truck, site conditions and duration of treatment required.
Rainstorm has both on and off-road vehicles, equipment, spray canons and batching equipment in order to deliver most application services. The company's highly qualified operations staff provides on-site application services, as well as offering supervision and corporate reporting.
Gluon is supplied in 1,000l intermediate bulk containers (IBCs) that are delivered to the client site, or in 20l drums.
We have had good feedback from clients and colleagues for over a decade as to...