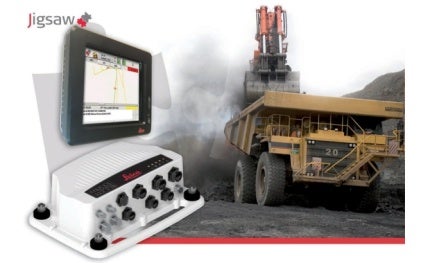 Leica Jfleet is a solution for fleet management and production optimisation a core level of safety. Jfleet is an intelligent system that operates on distributed database architecture and is not dependent upon a continuous connection to a central server. Each machine automatically tracks and logs its own activity.
Leica Jfleet connects, monitors and optimises any machine in your fleet.
Jtruck
Leica Jtruck monitors haul cycles to maximise efficiency and minimise down time.
Reduce idle time and fuel costs
Real-time KPIs
Real-time position of all mining equipment
'Best path' displayed to the operator
Operator log spillage and other hazards
Integration to all Leica products
Jshovel
Leica Jshovel for loaders, excavators and shovels has been developed to increase shovel throughput and enable real-time truck payload.
Real-time payload of truck being loaded
Display real-time position of all mining equipment
Displays ETA of all trucks on-route
Polygon display of material mining blocks
Real-time KPIs
Jdozer
Leica Jdozer accurately captures production time and enables the management of operator tasks and activities.
Real-time KPIs
Real-time position of all mining equipment
Task/activity management and monitoring
Jdrill
Leica Jdrill is a key production monitoring system that updates pattern progress in real time.
Real-time operator feedback
Consumable tracking
Graphical display of all mining equipment
Jaux
Leica Jaux provides a real-time display of hazards and spillages, offering 'best path' routes.
Real-time KPIs
Production data displays
Display real-time position of all mining equipment
Consumable tracking
Jsuper
Leica Jsuper allows supervisors to see the real-time position of heavy and light vehicles across the whole fleet.
Real-time status of every machine on site
Reduce two-way traffic
Leica Geosystems, industry leader in measurement technology, announced today its iCON excavate machine control solutions...