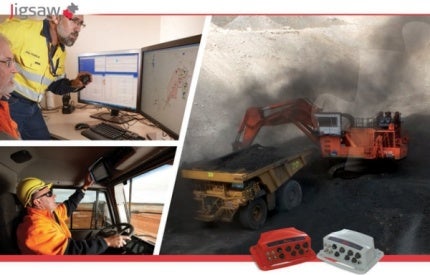 Leica J software includes fully-interchangeable modules that are based on the standard Jmineops platform. Optimisation algorithms work to reduce shovel hanging and truck queuing times. Data can be exported from any machine in multiple formats and the replicated database ensures that no data, even if there is a communication breakdown.
One central application
Leica Jmineops fleet management software updates information in real-time, allowing dispatchers, administrators and maintenance personnel to seamlessly interact with the Leica Jigsaw Jfleet, J²guidance and J³autonomous solutions.
Jmineops monitors in real-time and its information processing options can be used with any of the Leica Jigsaw systems.
Key performance reporting
The Jview business intelligence suite provides out-of-the-box reporting at installation and upgrades for reporting on the Leica Jigsaw Jmineops system. Jview provides real-time key performance indicator dashboards and customisable reports. The Jview module is web-based, for speed and ease of use.
Vehicle health monitoring
Jhealth is a vehicle monitoring solution that collates health data information across mixed fleets. The system collates operational and maintenance data for real-time alarm and sensor monitoring. Jhealth provides immediate or historical visibility, and understands operational impacts on vehicle health.
Seamless interfacing
Leica Jconnect interfaces third party manufacturers, such as vehicle health monitoring systems, with Jsoftware so that all information can be stored and shared from the Jmineops database.
Optimisation, blending and forecasting
Leica Jmineops considers factors, such as fuel levels, TKPH and fatigue monitoring to make dispatching decisions.
Leica Joptimizer optimises path planning by considering the variables and constraints, then routing trucks via the most efficient path. Equipment is automatically assigned to eliminate queuing.
Leica Jblend allows for automatic blending by optimising the blending of material feed into stockpiles or crushers, based on grade and a user-selected tonnage.
Leica Jforecaster predicts productivity scenarios based on the linear optimisation model used by Joptimizer.
Leica Geosystems, industry leader in measurement technology, announced today its iCON excavate machine control solutions...