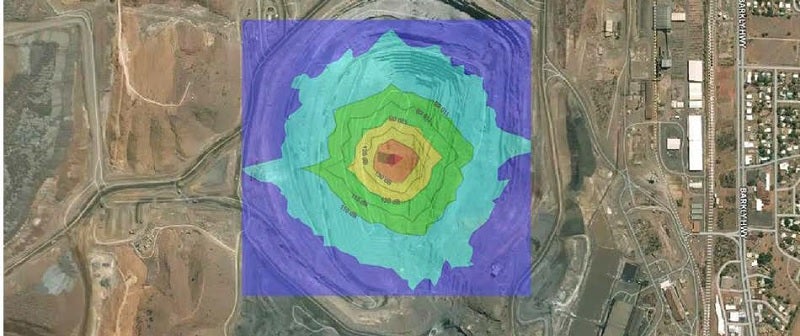 Mining's most advanced drill and blast system, Maptek BlastLogic, lowers risk and provides better results and greater productivity.
BlastLogic is an all-in-one solution adding value to open cut operations through streamlined drill and blast design, tracking and analysis. It enables operations to make blast design and implementation decisions with reference to mine plans, geology and geotechnical data, with instant data connection and visualisation in the field or office.
The flexible drill and blast system is designed to work in the demanding production environment. Access to data is immediate and universal across users, simplifying and accelerating routine tasks.
Connecting fleet systems, explosives loading and initiation, and production management and reporting systems allows continual improvement both upstream and downstream from the drill and blast process.
BlastLogic is true innovation in blast design, modelling and analysis, offering a centralised record of all operational blast data. BlastLogic interfaces with leading drill navigation systems and provides a business-wide solution that can be scaled to suit operational requirements.
Superior blast performance is achieved by fusing distinct data sets associated with mine planning, drill guidance, field survey, load design parameters and post-blast evaluation to create a more intelligent blast design.
Rapid identification of deviations at critical stages reduces risk of incidents and leads to production improvements from drill & blast. Electronic tie-up delivers finer timing control and reduced misfire potential, increasing safety and minimising excessive vibration and noise.
BlastLogic allows better analysis and modelling of drill and blast. Cost-saving measures can be achieved, such as expanding the blast pattern and reducing explosives use without compromising blast performance.
Operations can catalogue blast outcomes by tracking blast performance factors, reconciliation to design, production reporting and inventory management.
Users can quickly create and compare drill, charge and tie-up design scenarios. Accurate execution in the field is tracked in real time. Tie-up sheets are easily exported and shared across operational departments. Blast crews can access printouts showing how to tie-up blasts.
The BlastLogic Tablet dynamically updates plans in the field. The simple interface ensures effortless data entry that is instantly synchronised or cached.
BlastLogic enables operations to pre-empt risk, productivity and cost issues before they emerge and track and monitor against KPIs. Custom reporting supports operational requirements to track and monitor drill and blast performance.
Adjusting hole-to-hole and row-to-row changes is accomplished quickly, accounting for actual drilling, charging and stemming positions, ensuring performance in safety and fragmentation is delivered for every blast.
New hole temperature logging supports site practices through assessment of stability or choice of explosive products and helps manage safety risk.
Increase productivity, guide continuous improvement, reduce costs and increase safety with BlastLogic.
PDF Available