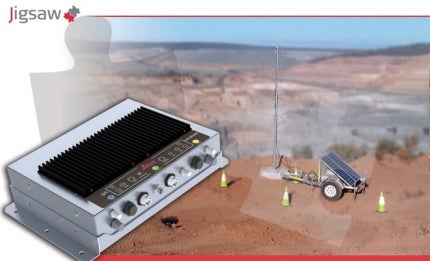 Leica Jassist represents the latest and greatest technology that will integrate with, support and assist your existing mine management solutions. First in this product revolution is the Leica Jigsaw Positioning System (Jps): providing the same level of accuracy as GNSS, but with greater reliability.
Leica Jps
Leica Jps is the world's only high-precision positioning network that does not rely on or require GNSS. It is powered by Locata technology and provides 'a new constellation of ground-based satellites' or alternative points of reference.
Leica Jps provides an unprecedented level of reliability for accurate positioning in mining. Ground-based Leica Jps LocataLite transmitters are deployed, which augment conventional GNSS. The LocataLites work without needing the additional corrections, communication or other assistance normally used for high-precision systems.
The mining industry is increasingly reliant on GNSS positioning and it is common to experience signal blockage in deep pits and against high walls. With Leica Jps, this is no longer an issue, as the system supplements or replaces the positioning network.
Locata technology is being used by the US Air Force when GPS has been jammed. This revolutionary breakthrough is available for mining exclusively through Leica Geosystems Mining.
Leica Geosystems, industry leader in measurement technology, announced today its iCON excavate machine control solutions...