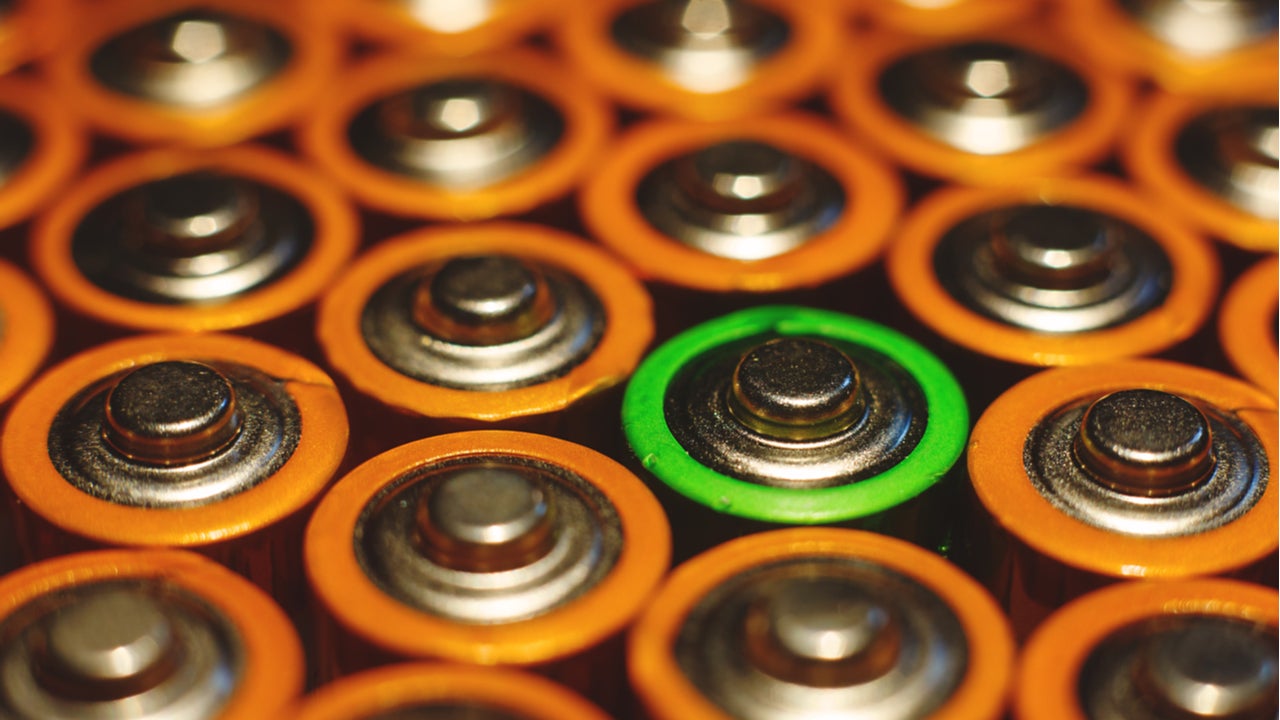 Batteries are among the top tweeted terms in the trending industry discussions happening on Twitter by key individuals (influencers) as tracked by the GlobalData platform.
1. Batteries – 1,501 mentions
Tesla's plans to build a battery production plant, the need for electric vehicle (EVs) in India and launch of a zero-carbon lithium project were some popularly discussed topics in the third quarter of 2020. According to an article shared by Dirk Harbecke, a battery and lithium expert, EV manufacturer Tesla announced plans to produce its own batteries in Germany. The batteries will be used at the company's EV production plant, which is also located in Germany. Manufacturing its own batteries is expected to reduce reliance on Asian battery cell producers and avoid delivery delays, the article noted.
Further, Vivas Kumar, an expert in lithium-ion battery sector, tweeted a video where he discussed the urgent need for India to start using EVs and switch to a battery storage grid system. He opined that India needs to combat air pollution by using clean energy. According to the World Health Organisation, most of the cities among the top 20 polluted cities in the world belong to India.
Batteries were also discussed in an article shared by Mining Magazine, an online magazine, about the collaboration between EIT InnoEnergy, an independent body of the European Union, and Vulcan, an Australia-based lithium exploration start-up. The two companies are planning to establish a lithium project in Germany. The lithium produced by the project will be used to produce lithium-ion batteries, which will be supplied to the manufacturers of automobiles and other industries, the article noted.
Tesla decided to build its own #battery cell production lines for the German gigafactory as well. Good news for the region – and right move of @elonmusk to stay as independent as possible. We plan to support with German #lithium production. #ev @Tesla $RCKhttps://t.co/qvQ4mvg0r9

— lithiumforum (@lithiumforum) July 25, 2020

How well do you really know your competitors?

Access the most comprehensive Company Profiles on the market, powered by GlobalData. Save hours of research. Gain competitive edge.

Company Profile – free sample

Thank you!

Your download email will arrive shortly

Not ready to buy yet? Download a free sample

We are confident about the unique quality of our Company Profiles. However, we want you to make the most beneficial decision for your business, so we offer a free sample that you can download by submitting the below form

By GlobalData
2. Lithium – 750 mentions
China's biggest lithium producer planning to develop a battery recycling plant, the different types of lithium deposits and the progress made on Rio Tinto's Jadar lithium project were widely discussed during Q3. Henry Sanderson, mining reporter at Financial Times, shared an article about Chinese company Ganfeng Lithium's decision to build a battery recycling plant in Mexico. The company is planning to exploit the growing demand for second-hand materials in electric vehicles. Once operational, the Mexican plant will supply battery minerals to the US, the article noted.
International Mining, a mining and minerals publication, further, shared an article about the various types of lithium deposits and total lithium reserves in the world, which is estimated at approximately 17 million metric tonnes. While continental brines and pegmatites are used for commercial production, lithium extracted from brine deposits is considered to be more economically viable. Approximately two-thirds of the lithium in the world is sourced from lithium brine deposits, the article highlighted.
Lithium also trended in discussions about the Jadar lithium project located in Serbia in a tweet shared by Henry Sanderson, a mining reporter at Financial Times. The project is owned by Rio Tinto, a mining and minerals corporation, and is being advanced into the feasibility stage with an investment of $200m. Once operational, the project will produce lithium and borates.
Tesla is ramping up battery recycling, yet Chinese companies are the biggest recyclers of lithium-ion batteries by a long way. Now they are expanding abroad….. China's Ganfeng Lithium plans battery recycling plant in Mexico https://t.co/nfgg9wAF1g via @financialtimes

— Henry Sanderson (@hjesanderson) September 29, 2020
3. Electric Vehicles – 580 mentions
The need for EV manufacturers to pay a premium for lithium, global adoption of EVs and first production of lithium chloride from a plant located in Argentina were popularly discussed topics in the quarter. Ernest Scheyder, a Reuters correspondent, shared an article on views expressed by Paul Graves, CEO of Livent, a chemical manufacturer. Graves noted that the EV sector should procure lithium at higher prices in order to boost investment in the industry and avoid a supply shortage. He added that higher prices will enable the industry to build mines and boost production, the article noted.
Further, Rodney Hooper, an EV battery metals researcher, shared an article about the conditions that need to be fulfilled for adopting EVs throughout the world. The article noted that EVs must be cost-effective compared to the existing internal combustion engine (ICE) vehicles for them to be adopted globally. In addition, extensive charging network capable of providing ultra fast charging should be available by 2025. Customers should also be offered more variety and scope in choosing EV models, the article noted.
Another discussion surrounding electric vehicles was shared by Dirk Harbecke about using EVs to substantially reduce air pollution. A research published by two Canadian organisations stated that more than 300 early deaths can be prevented by replacing special utility vehicles (SUVs) with EVs in the Greater Toronto Area (GTA). The study also highlighted that using EVs will help save social cost of C$2.4bn ($1.82bn).
The electric vehicle industry must pay more for lithium or else it will face a supply crunch later this decade, the CEO of @LiventCorp says
Full Story: https://t.co/hSgAU3B5yy $LTHM #lithium #batteries #auto #electricvehicles

— Ernest Scheyder (@ErnestScheyder) August 7, 2020
4. Nickel – 261 mentions
Volkswagen's plans to increase nickel content in its EV battery cells, Tesla vehicles using high nickel battery cells and Australian battery minerals project to supply nickel and cobalt were some popularly discussed topics in Q3. John Foulkes, a nickel enthusiast, shared an article about Volkswagen's plans to increase the nickel content in its electric car battery cells by 15% from 2021. The quantity of nickel currently used in the company's EV battery cells is 65%, which will be increased to 80%. The company aims to produce three million electric cars by 2025, which require battery cells worth 300GW hours, the article noted.
Haplo, a renewable energy investor, further, shared an article about Tesla's EVs being equipped with high nickel 4680 cells. The company will use high-energy cathodes for the 4680 cells, according to Tesla founder Elon Musk. The company has been testing the batteries as prototypes in vehicles for several months. Musk, however, was criticised for not demonstrating a physical example of the battery at Tesla Battery Day. Critics questioned the ambiguity surrounding the 'diversified cathode approach' of the company, the article noted.
Nickel also trended in discussions related to the project execution plan (PEP) for Sunrise Battery Minerals project in Australia in an article shared by International Mining, a mining and minerals publication. The PEP confirmed that the project is among one of the low-cost sources of battery minerals in the world. The project is being developed by Clean TeQ Holdings, a metals recovery company, and Fluor Australia, an integrated engineering firm. It is expected to supply affordable nickel and cobalt for lithium-ion battery market as well as aerospace, consumer electronics and automotive sectors.
811 for everyone…

"Volkswagen will raise the amount of nickel used in it electric car battery cells to 80% in the next year from 65% at present"https://t.co/kSD3joMlx8

— John Foulkes (@foulkeswagen) September 27, 2020
5. Cobalt – 224 mentions
The collaboration between two European companies to enhance battery efficiency and cobalt price surging due to transport issues in Africa were some popularly discussed topics in Q3 2020. According to an article shared by Andrew Miller, product director at Benchmark Minerals, Solvay, a Belgium-based chemical firm, and Veolia, a France-based energy services provider, entered into a partnership to recycle battery cells.
The two companies will extract and enhance resource efficiency of cobalt and nickel metals from spent batteries. Veolia will focus on the dismantling of batteries from electric vehicles, while Solvay will improve the extraction and purification of cobalt, nickel and lithium. The purified metals will be converted into highly refined raw materials to be used in new batteries, the article noted.
Other discussions surrounding cobalt included transportation blockades in south African countries due to Covid-19, which fuelled price hikes of the metal according to an article shared by Mitchell Smith, a cobalt specialist. There is a huge demand for cobalt hydroxide in China, which acted as a catalyst for the jump in the metal's price. The shipments from Zambia and Democratic Republic of Congo make up for more than 70% of the metal's global supply. The price of cobalt hydroxide is based on a percentage of cobalt price, which is currently at approximately 85%, the article noted.
Encouraging to see another major partnership aimed at tackling #battery sustainability. Solvay and Veolia today announced a new circular economy consortium aimed at addressing the supply chain concerns of major #EV growth: https://t.co/MWOrd766Ws #recycling #cobalt #nickel

— Andrew Miller (@amiller_bmi) September 9, 2020