Autowash is an Australian-owned company that provides drive-through wheel and vehicle washing systems. We operate Australia-wide with offices in Sydney, Brisbane, Melbourne and Adelaide. We also have dealer representation in Perth, Mackay and Townsville.
We understand that every mine site is different and presents new ways to reduce the cost per quality wash. Contact us now to talk about ideas for your site.
Vehicle washing equipment and maintenance services
In 2003, Autowash began providing internationally best-of-breed vehicle wash equipment and maintenance services to Caltex. Autowash now also supplies equipment to BHP, Chevron, Thiess, Woolworths, Broad, Veolia, etc.
Autowash was awarded exclusive Australian distribution licences for the leading wheel wash providers in 2008, Dong Seo (Korea) and InterClean (USA), providing Autowash with a full range of heavy vehicle washing solutions.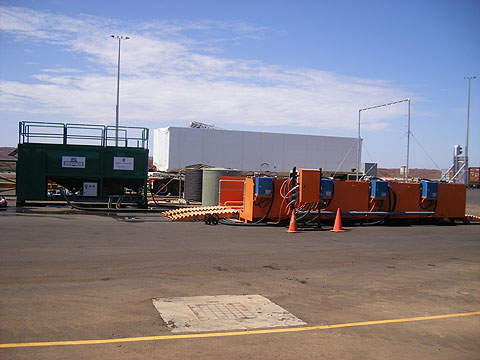 This is the fully portable wheel wash and water recycling solution at the Chevron Gorgon project.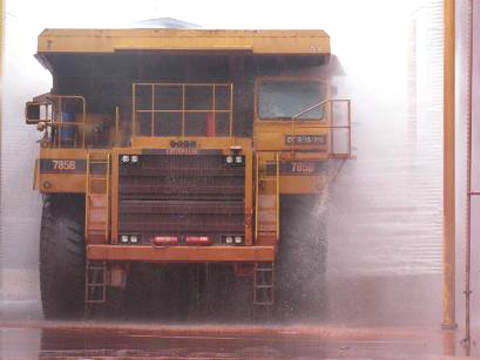 This is the world's largest vehicle wash system in the Kalahari Desert, South Africa. The large 200t and 400t haul trucks that carry iron ore from the open pit mine to the processing facility are now washed in 3-10min instead of days, almost eliminating the significant safety issue.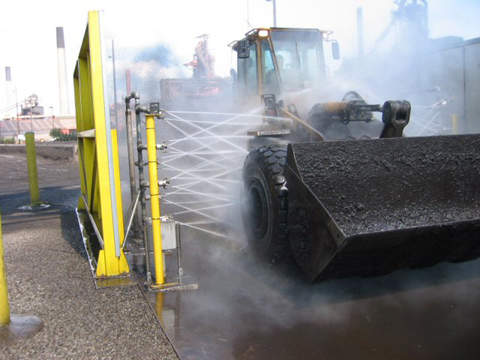 This Interclean system washes all on-site rolling stock, saving 2hr of labour per wash.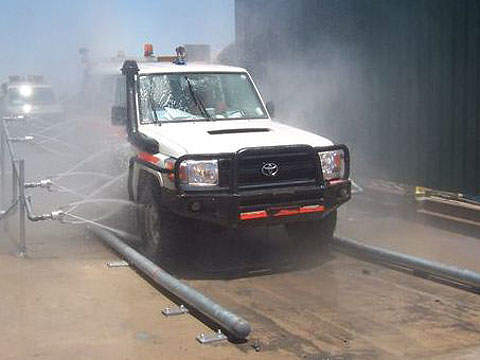 InterClean uses AutoCAD 3D solid modeling to construct all engineering fabrication and facility layout drawings, and is the only vehicle wash manufacturer in the world to do so.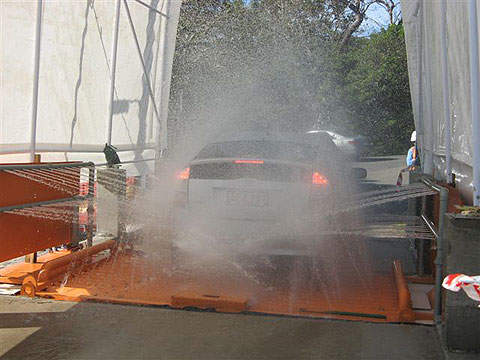 The Dong Seo wheel wash system is used as the sole entry and exit point on to city roads for the Australian Police construction site at Collins Beach Road, Manly.
Wheel-wash systems for mining sites
Dong Seo Hi-Tech is a Korean manufacturer of premium-grade, reliable and efficient wash systems designed specifically for construction and mining sites. Established in South Korea in 1983, Dong Seo commenced the production of its range of automatic wheel washers in 1993.
Using the Dong Seo wheel wash, trucks have the grease, dirt and other harmful build-up removed from their wheels and underbody with one easy drive-through, protecting the vehicle and enhancing its lifecycle.
Automatic wheel-wash systems
Dong Seo's wheel-wash system does not require an operator – the driver remains in their vehicle at all times, simply driving into the unit at slow speed. The system uses photo-cell technology that commences the wash process as the vehicle breaks an invisible light beam on entering the wash bay.
A similar system ceases the wash cycle precisely as the vehicle exits the wash bay. All the dirt on the vehicle is dropped and washed into the pit below as a result of a combination of the high-pressure jets and vibration caused as the vehicle drives over the grates. The heavy mud collects at its bottom and is removed through a conveyor. Water is re-used in the wash process from the top section of the pit by the operation of a submersible pump.
Wheel-wash system for the mining industry
The wheel-wash system is built to operate in the harshest conditions. The main frame is supported by CO2 welding and long-lasting paints, and is sandblasted to prevent rusting.
As the system is self-cleaning, it is always well-presented and only needs occasional routine inspections. The unit comes pre-fabricated to your site and is easy to install into a pit.
Wheel-wash system advantages
The wheel-wash system has the following advantages:
Fast but effective washing process: washing starts rapidly with an automatic sensor (no need for an operator)
Ability to wash all types of vehicles, from small trucks to heavy-duty mining trucks
Minimum space requirement: can be installed in tight fitting places (6m length); system even operates on a slope
Durability and ease of maintenance: made from highly durable material, easy to set up and inspect
Portability: easy to relocate and reuse; critical for construction sites
Range of products: many additional options to optimise the solution for your site, including portable steel pit, integrated water recycling system, automatic sludge removal, splash bars, rollers, internal generator, etc.
The Dong Seo Wheel & Tyre Wash is currently installed in the following locations in Australia: Chevron – Gorgon Oil and Gas (four units); Broad Constructions – Australian Police redevelopment site, Manly, Sydney; Guerney Earth Moving – Brisbane; John Holland construction site – 629 Bell St, Pascoe Vale, Melbourne, Victoria; Strata Zinc – George Fischer Mine, Mt Isa, Queensland.
Heavy-vehicle wheel-wash systems
Interclean provides wheel-wash products, but their strength is to design solutions for larger vehicles. They are the largest manufacturer of heavy-vehicle washing systems worldwide. InterClean was established in 1985 and in the last ten years has designed and completed over 500 custom-engineered vehicle washing projects.