ZITRON manufactures a complete range of mining fans, including primary and auxiliary fans. ATEX-certified fans are suitable for use in potentially explosive environments.
High-quality fan solutions for mining and tunnelling projects
ZITRON has supplied fans to mining projects ranging from Ø 600mm to Ø 5,200mm, with 15kW up to 2,000kW motor power from Siberia and Chile to Australia and North America.
The fans are manufactured with either horizontal or vertical configuration. Many of these fans have been installed underground to provide ventilation for mining and tunnelling projects.

ZITRON performs a comprehensive range of tests to ensure the optimal performance of large mine fans in a variety of environments.

The company manufactures and assesses customised fans to suit specific and demanding performance requirements.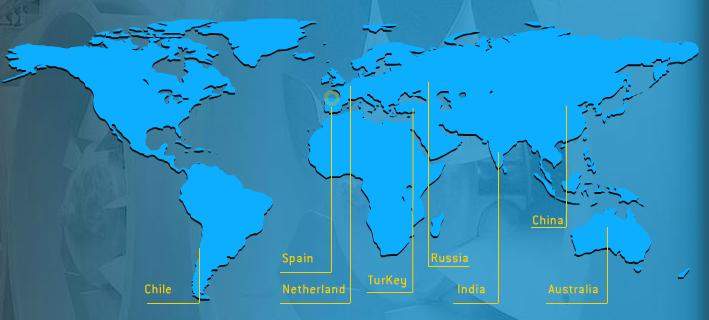 ZITRON has 32 representatives worldwide and has delivered solutions to customers in 46 different countries.
Mining environments are very different to industrial environments because of the dirty air and rough conditions, so mining ventilation has to be operational under these hard conditions
Mine fans are typically powered by bigger motors and operate continuously 24 hours a day, 365 days a year. This large power consumption requires high-efficiency fans capable of providing important energy savings.
Customised wind tunnel and underground condition testing for large mine fans
ZITRON uses a 100m-long test bench to assess the real-load capacity of 2,000kW fans up to 4m². Mine fans are also tested in a wind tunnel to ensure that products meet the technical specifications required for use in harsh mining conditions.
For reliable testing, ZITRON uses a process certificated by the US Air Movement and Control Association (AMCA), in one of the largest AMCA laboratories worldwide. In addition, a complete factory acceptance test ensures high-performance and verifies the efficiency of mine fans.
The firm also simulates different mine conditions to suit customer requirements. During customised testing, the fan is assessed at a variety of operational points, such as air flow and pressure. The pressure often drops (mine resistance) and the air demand changes as the mine gets deeper.
Using this specific simulated testing, as opposed to calculated estimations, the company can offer fact-based power and blade angle recommendations for individual mining conditions. This reduces service costs and power losses for mine fans and improves the condition of air underground.
3D computational fluid dynamic software for ventilation systems
ZITRON uses 3D computational fluid dynamic software (FLUENT) to simulate and optimise the critical parts of the mine ventilation system, such as connections between horizontal fan and vertical shaft, 90º bends, and bifurcation areas.
In addition to manufacturing, factory testing and site commissioning of the main fans, ZITRON also provides full technical support, as well as dimensional, foundation, and installation drawings.
ZITRON uses well-known components sourced from companies worldwide, including electric motors from ABB, WEG, Leroy-Somer, and Morely-ATB.
This is an important factor for the company, achieving high-quality products and assuring reliable operation.
After sales services for mine operators
ZITRON provides after-sales services, including supervision of installation, start up, and commissioning.
This procedure is carried out by the company's experienced and trained mining engineers to ensure optimal performance of products and equipment.They also provide on-site training for the maintenance staff.
ZITRON's growing worldwide market and the high level of satisfaction reported by clients highlights the quality and reliability of the company's products and services.
About ZITRON
ZITRON was founded in 1963 to produce mining fans for the local mining industry in Spain.
Since then, the company has manufactured more than 20,000 fan units for underground ventilation in mines and tunnels.
Zitron has had fans manufactured and supplied to the Australian mining industry, under licence since 1998, by Down Under Mining Supplies.
At the end of 2011, Zitron came out to the Australian market direct, and purchased the ventilation segment of Down Under Mining's business, taking with it personnel, manufacturing, and equipment.
This allows Zitron to have a greater focus on the Australian mining industry.
Based in Henderson WA, the company manufactures and supplies new secondary fans, as well as refurbishing both primary and secondary fans. It also supplies Protan PVC ducting.
With this greater focus on client needs, the company is able to supply new secondary fans, with a turnaround time of three weeks from receipt of purchase order.