Elliott Ventilation Systems
Underground Ventilation Ducting

Address
Unit 3/30 Sustainable Avenue,
Bibra Lake WA 6163,
Other,
Australia
Phone
Elliott Ventilation Systems (EVS) is one of Australia's leading underground ventilation ducting suppliers. All of EVS's ventilation duct is professionally manufactured from woven polyethylene with emphasis on quality, strength and durability. EVS also supplies high-pressure poly pipe and compression fittings.
EVS products are of the highest quality to comply with Australian standards, using innovative designs to match today's rapidly evolving mining industry. You can always rely on EVS to provide the most competitive prices in the Australian market. Having warehouses in three states means that the company is well-equipped to supply anywhere in Australia.
EVS is one of the few companies that holds its inventory on the floor rather than making it to order. This means that EVS offers a very swift delivery time, and that any other speciality pieces that aren't held in stock can be made to order upon request.
Ventilation ducting
EVS ventilation ducting is constructed of woven polyethylene fabric extrusion-coated with a low-resistance film. It is available in a range of diameters and lengths. EVS can provide different styles of ventilation ducting, including straight lengths, reducing pieces, concertina lengths, bi-vent lengths and bi-vent transition pieces.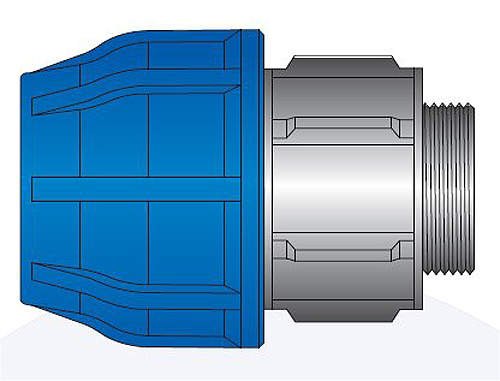 Ventilation duct fittings
In addition to its range of standard ventilation duct and fittings available in six sizes, EVS also offers other speciality pieces including, but not limited to:
Concertinas
Fan adapters
Parachutes
Shaft tarp
Bi-vent duct and fitting
PVC duct
Fire-resistant (FR) duct
Anti-static (AS) duct
FRAS PVC duct
High-pressure poly pipe and fittings
EVS supplies high-pressure poly pipe and fittings at very competitive prices. These fittings have been tested successfully up to a PN rating of 20 and the product has been thoroughly tested and given ISO qualifications to ensure it is safe for drinking water. EVS supplies the following fittings:
Male and female adaptors
Couplings
Reducing couplings
Tees (both male and female)
Reducing tees
Elbows (both male and female)
End caps
Clips for vent bags and parachutes
Safety clips are currently widely used to install vent bags and parachutes, but they pose many problems for day-to-day use. QuickClips from EVS are an excellent alternative. They are very easy to use and extremely durable: once a QuickClip is fitted to the eyelet of a vent bag or parachute it should outlast the vent bag or parachute throughout its numerous installations and removals.
The user-friendliness, inherent strength and low stretch advantages of the QuickClip can considerably reduce the number of clips consumed.
Elliott Ventilation Systems Pty Ltd
Unit 3/30 Sustainable Avenue
Bibra Lake WA 6163
Other
Australia



Telephone Number




Fax Number




Email Address
Maryborough Office
67 Precision Drive
Woocoo QLD 4620
Other
Australia



Telephone Number




Fax Number




Email Address
Kalgoorlie Office
138a Addis Street
Kalgoorlie WA 6430
Other
Australia



Telephone Number




Fax Number




Email Address
Cowell Office
3 Chase Drive
Cowell SA 5602
Other
Australia



Telephone Number




Fax Number




Email Address