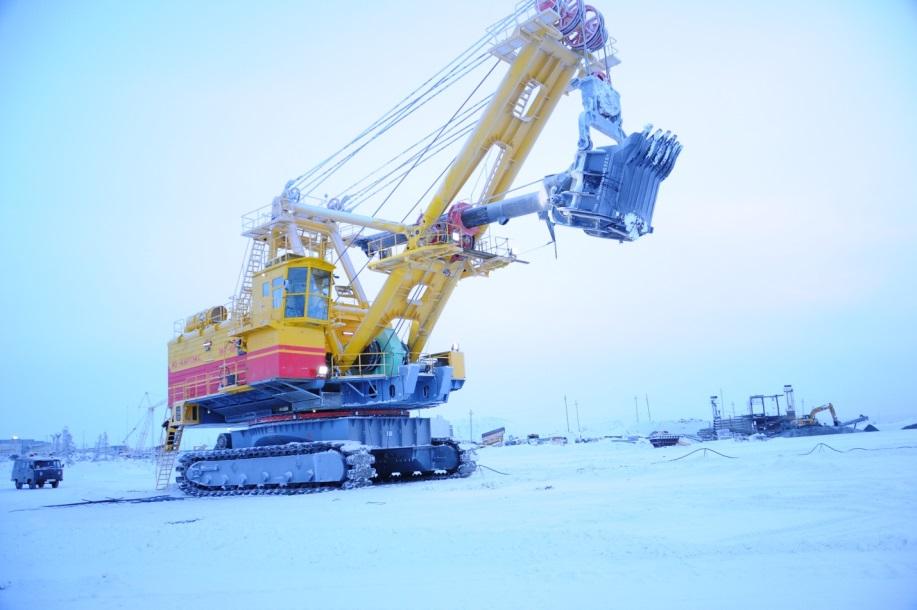 In 2013 the co-operation between IZ-KARTEX and Aikhal GOK diamond mine was renewed and an EKG-15M excavator was delivered to the mine. Previous shipments from IZ-KARTEX to Aikhal GOK had been held since 2010.
Aikhal GOK mine is owned by joint stock company (JSC) ALROSA, which is the global market leader for diamond mining by volume. Aikhal GOK began operating in 1961 and today, its portfolio includes the Jubilee and Komsomol quarries, as well as the Aikhal underground mine.
Aikhal GOK's diamond pipe, Jubilee, currently makes up the largest bulk extraction site of all of the ALROSA quarries, and it is here that the new EKG-15M was put into operation. This event is Jubilee quarry's first excavator delivery in 13 years. Jubilee is the only known quarry in Russia where mining and stripping operations are solely conducted by EKG-15 excavators, and they currently total eight units.
The new EKG-15M was launched on November 29, 2013. The installation and commissioning of the excavator was carried out by OMZ-Gortehmash-Service, the regional service company of IZ-KARTEX expert staff and developers of the electric drive. It was assisted by the JSC, United Energy.
Aikhal GOK needed an excavator that could cope with extreme weather conditions, so the EKG-15M was modified to be more cold-resistant, allowing it to operate at temperatures of up to -50˚C. The insulated excavator cabin was equipped with special, double-glazed windows and thermal heating devices were installed in place of the standard heating equipment.
EKG-15M is equipped with a modern, energy-efficient motor control system that allows for reduced power consumption, compared with other systems used on excavators EKG in this class.
For further information about the project the EKG-15M excavator, please visit the company website.
---
Image: EKG-15M at the Jubilee quarry installation site. Photo: courtesy of IZ-KARTEX.
Delegation from the largest coal-mining concern of India Coal India Limited has visited IZ-KARTEX. The...