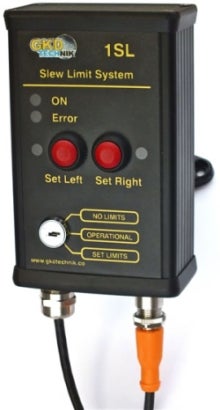 The Slew Guard motion control system is a simple, cost-effective slew limiting solution designed to guarantee safety and prevent machine damage when operating in confined spaces.
The Application
The Slew Guard Limiter system is intended for use on excavators and cranes in the construction and utility maintenance industries where machines are restricted to working in confined spaces and there is a requirement to limit the slew movement of the machine.
How It Works
Slew Guard Limiter allows the machine operator to quickly and easily set left and right slew limits from the operator station, and then restricts the machine to working within the permitted slew sector.
As the left or right slew limit is reached a hydraulic solenoid valve is released to cut off the relevant slew hydraulic service, and therefore prevent the machine from entering the exclusion zone. Slew operation in the opposite direction, back into the "safe" zone, is still permitted.
The Specification
The system can be installed by any competent engineer, and there is no calibration required.
Adding a Compuload weighing system and printer to a front-end loader, excavator, forklift or truck...