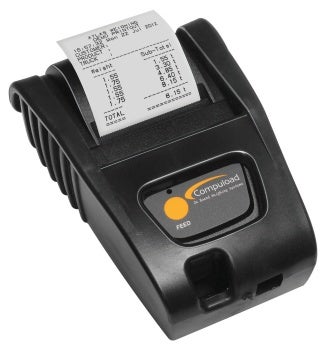 Adding a Compuload weighing system and printer to a front-end loader, excavator, forklift or truck can greatly increase the productivity of an operation, saving time and money.
Whether your business is in landscape supply, quarries, mining, warehousing or the transport industry, your operation can benefit from the efficiency and reliability of the new Compuload 4070 printer.
Atlas Weighing's new Compuload 4070 printer has many of the great features of the previous 4060 model, but also has improved paper-loading, an ultra compact design and a lightweight body at only 400g.
The smaller model can be quickly mounted inside the cabin and comes with a protective rubber boot containing two magnets; slip the rubber cover over the ABS shell for added protection, secure installation and a larger number of mounting options.
Magnetic mounting also allows for easy transfer between machines and vehicles. Atlas Weighing is continually developing mounting options to make installing and transferring equipment simpler and more efficient.
The Compuload 4070 printer offers easy paper-loading that is not impeded by the rubber grip mount. Simply open the protective perspex cover and put the roll in; it's that easy.
The interface between the Compuload 3000 and the 4000 is via a RS232 communications port. The 4070 printer will also work with a range of scale displays, for further versatility.
The high-speed 4070 model prints at ten lines a second, with a high resolution for easy reading and a print width of 48mm. The printer uses paper thermal rolls of 58mm wide by 50mm long, which are available from Compuload. An additional improvement of the Compuload 4060 printer is its quiet performance.
Atlas Weighing's Compuload 4070 printer allows operators to see individual bucket readings and weight totals of the weighing process. When using the Compuload 3000 and 4000 scale displays, this can be viewed as a two-line display with extra information, such as the company name, date and time. The more advanced Compuload 4000 scale allows operators to select and customise three user-defined fields, to ensure that exact information requirements are met.
For more detailed information about the Compuload 4070 and Atlas Weighing products, visit the company website.
Companies that operate in landscape supply, quarries, mining, and transport can benefit from increased productivity...