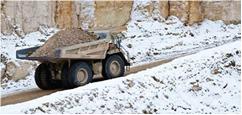 Winter in the north is some time away but organisation is the key to success. Order your Discoverer® core boxes now to prepare for the cold winter that lies ahead.
Discoverer's Sub Zero core boxes are the only core boxes available that can withstand prolonged freezing conditions without compromising the core box quality.
Discoverer core boxes are tested to -35°C / -31°F and customers can be confident knowing that they are manufactured from UV-stabilised premium virgin polymer. Yandina Plastics won't take the risk of using re-ground or inferior quality raw materials for Discoverer products.
The Discoverer is immune to corrosion, deterioration and insect infestation. Fortunately, only the Discoverer brand can deliver on this promise and offers a limited lifetime warranty.
The Discoverer range of core boxes is available in BQ, NQ, HQ and PQ in both the series one and series two models and are offered with accessories like lids, core markers, ID tags and locking links.
Yandina Plastics cares about sustainability, which is why Discoverer products are fully recyclable.
---
Image: Discoverer core trays – tough and durable. Photo: courtesy of Yandina Plastics.
Total Plastics Solutions is proud to announce the introduction of a brand new robot into...