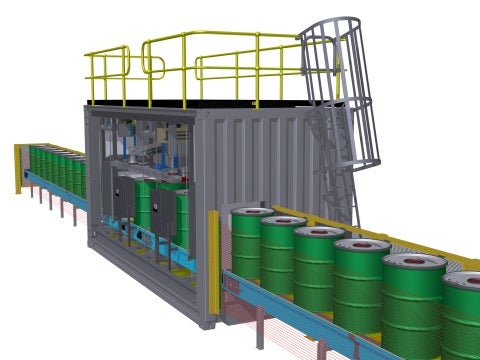 The ACE Modular Yellowcake Drum Packing Plant incorporates the best technology using proven equipment and sound engineering principles to provide for superior packing of yellowcake. We can reduce risk to operator, plant and environment. The fully automated plant is factory assembled, tested and commissioned prior to shipping, providing significant savings in capital expenditure, on-site erection time and ongoing operating costs.
Features
Automated filling and lidding
Automated weighing system with label printing
Automated product sampling system
Automated drum wash and dry
Automatic drum conveyors for full and empty drums
Enclosed tube chain conveyor for transporting Yellowcake
Complete electrical installation, MCC, PLC, Instrumentation
Fully bunded secondary containment
Dust extraction
Optional semi-automated filling of open top drums (manual fitting of lid locking ring)
Benefits
Fully factory tested and commissioned prior to shipping
Proven uranium Industry components for reliability
Engineering shared to reduce costs
Minimal operator input reduces OH&S risk
Compact footprint, reduced off-gas and ventilation requirements
Simple to transport, easily relocatable
The first step to controlling plant water balance is to understand your plant through rigorous monitoring and analysis of inputs and outputs. This is an...