Adelaide Control Engineering
Consulting Engineers for the Mining Sector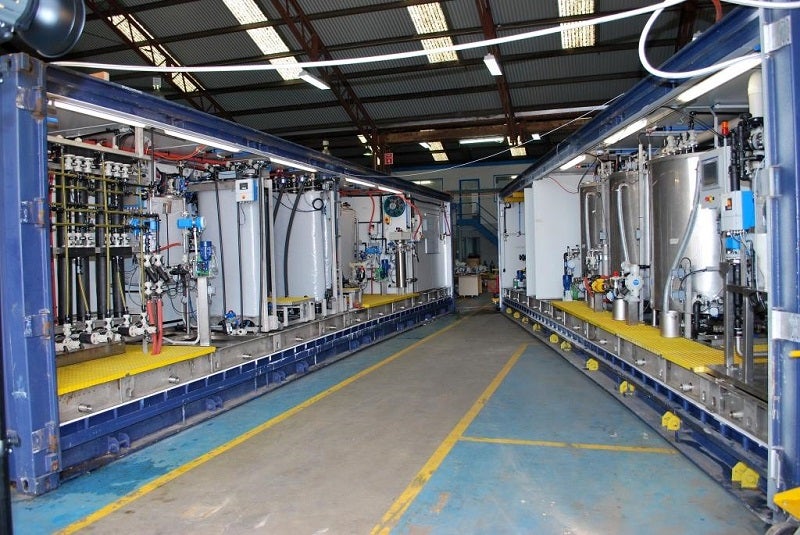 Adelaide Control Engineering (ACE) specialises in the design and construction of innovative modular mineral processing equipment.
Our designs include modular and pilot plants to collect data from new processes, and integrated process plants to improve production or remove impurities.
Mineral processing solutions for mine sites
ACE's products range from small-scale pilot plants to full production facilities, covering all processes from precipitation to drying and packing. All equipment is modular for simplified transport and installation.
Equipment designed, built and commissioned by ACE includes:
Well houses and filter skids for in-situ recovery (ISR) / in-situ leach mining (ISL) extraction processes
Ion exchange uranium extraction plants
Ammonia and peroxide yellowcake precipitation plants
Yellowcake dewatering plants, gaining first-hand experience with the use of centrifuges, plate and frame filter presses, and continuous belt filters
Yellowcake drying and calcining plants incorporating rotary vacuum, hollow-flite and porcupine dryers, multiple hearth calciners and horizontal rotary kilns
Dust extraction, ventilation and off-gas systems incorporating bag houses, heat exchangers, venturi scrubbers and condensers
Yellowcake drum packaging plants
Control systems and electrics that can be remotely supported, monitored and controlled
Modular plants for mineral processing
ACE modular design process units provide safe, cost-effective solutions for full-scale mineral processing plants. A further benefit of this development allows the same proven technology to be applied to smaller pilot scale operations.
We provide modules that are easily transported to site and set-up for short-term projects, from field leach trials and satellite plants, to fully functioning plants. The simplified, modular structure enables reduced costs, risks and capital expenditure.
Fluid bed precipitation solutions for processing uranium
ACE has an exclusive agreement with French nuclear and renewable specialist AREVA to use its patented fluid bed precipitation technology in its future uranium processing plant designs.
Implementing this technology enables increased particle size, higher density, improved product purity, and reduced dust levels, potential operator exposure, as well as operating, packaging and transport costs.
The new fluid bed precipitation process also allows ACE to use the horizontal kiln technology to dry or calcine both peroxide and ammonia precipitated feed. It means that with a single apparatus, ACE can dry or calcine yellowcake precipitated from ammonia or peroxide to produce UO4, UO3, and U3O8 product.
Automated drum packing plants
ACE's drum packing plants are fully automated to reduce operator exposure to U308 dust and allow operation with minimal supervision.
Empty drums are loaded into the module through an air lock to prevent the egress of dust. They are then filled, sealed weighed and washed before exiting the module via another air lock. Drum weighing, filling, sampling and un-lidding / lidding are automated, and product samples are taken automatically and discharged for later analysis.
Combined with automatic weighing and label printing, this improves the security aspects associated with handling the finished product.
The ACE drum packing module safety systems employed are equivalent EN/ISO 13849-1 Category 3 PLrd, and IEC 62061 SIL 3.
Accelerated evaporation systems
The ACE accelerated evaporation system consists of two units, a land-based hydraulic power pack, and a floating unit with hydraulically driven water pump and atomisers.
Using hydraulic drives eliminates the risks posed by electrical drives in corrosive atmospheres, while the oil used is biodegradable to mitigate any risk associated with leaks. The land-based unit includes a weather monitor to ensure that there is no spray drift beyond the pond boundaries by reducing the water flow as wind speeds increase.
Engineering consultancy services
ACE is a multi-disciplinary consultancy firm with experience in engineering design and project management.
We incorporate the best technology into mineral processing plants, using our extensive industry experience to reduce risk, and cut capital and operating costs.
The company offers experienced engineering resources in the fields of:
Electrical / instrumentation engineering
Chemical / process engineering
Mechanical engineering
Control systems engineering
Project management
Operations and maintenance management
Additional resources and experience are available through associated specialist service providers in electrical and mechanical drafting, civil and structural design, project cost control and accounting, such as:
Preparation of conceptual designs and project specifications
Design services to meet specific client requirements
Project services, either by the provision of multi-disciplined teams or by individuals with experience and training suited to specific needs
Electrical and mechanical design, as well as drafting services
We also provide specialist contract personnel to support client engineering staff.
About Adelaide Control Engineering
ACE has been involved in the mineral processing industry since 1999, starting with in-situ recovery uranium projects in Australia. Since then, the company has worked with uranium producers worldwide, and gained knowledge and experience in processing operations for this material.
Our team of mechanical, chemical and electrical engineers work closely with clients to establish their needs to optimise designs to incorporate product security and personnel safety as integral to the process.
Adelaide Control Engineering Images
Press Release
The ACE Modular Well house has been developed specifically for the in-situ recovery process.
Read more
The ACE Modular Yellowcake Drum Packing Plant incorporates the best technology using proven equipment and sound engineering principles to provide for superior packing of yellowcake.
Read more
Adelaide Control Engineering