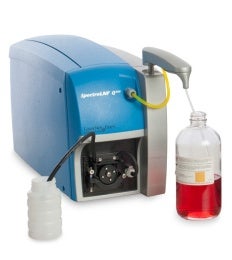 Spectro Scientific and Lockheed Martin Corporation have signed an exclusive licensing agreement for Lockheed Martin's LaserNet Fines® (LNF) fluid imaging and classification technology.
Spectro is a leading developer and manufacturer of analytical tools and software for fluid and machine condition monitoring. The agreement will enable the company to enhance its present products and to develop and manufacture new offerings based on the desktop, off-line version of LNF.
Lockheed Martin retains all rights with respect to its LaserNet Fines-Online fluid imaging and classification technologies and will continue to grow this product line.
LNF technology is currently a component of Spectro's LNF Q200 analyser; a desktop unit that provides particle size, count, and shape data as well as viscosity information. The LNF Q200 has gained wide acceptance in Spectro's core fluid condition monitoring markets.
LNF uses a pulsed laser diode, a digital charged coupled device (CCD) camera and advanced pattern recognition software to classify particle shapes while also providing accurate counts of particles larger than 4µm. Lockheed Martin and the Office of Naval Research developed LNF to identify the type, severity and progression of mechanical wear issues by measuring the size distribution, rate of progression and shape of wear debris in lubricating oil.
Spectro Scientific president and CEO Brian Mitchell said: "LaserNet Fines technology determines particle size, shape and rate of occurrence, and also provides other fluid condition data, creating an important diagnostic tool for maintaining and improving equipment performance. We will continue to work closely with Lockheed Martin as they focus on expanding the LaserNet Fines technology for in-line and on-line applications."
Lockheed Martin's director of integrated defence technologies for mission systems and training business Colleen Arthur said: "LaserNet Fines is operational at sea, in factories and laboratories around the world."
"Lockheed Martin is committed to growing its LaserNet Fines-Online product for continuous sampling of fluids for condition-based maintenance and other opportunities as they arise."
Download the free white paper for more information.
The leading fluid analysis instrument company formerly known as Spectro Inc. today announced from its...