Derrick Corporation
Fine Screening Machines and Screen Surfaces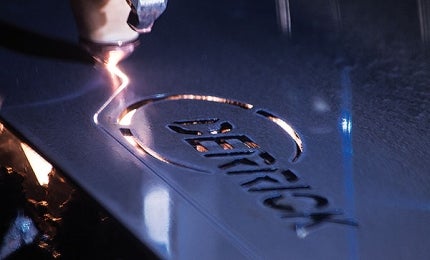 Derrick Corporation designs and manufactures high-frequency vibrating fine screening machines and screen surfaces.
Known worldwide for their high-capacity and superior separation efficiency, the company's products are used worldwide in the mining industry for metal and mineral processing, and in industrial applications, such as for plastics, chemicals and wastewater.
Proven fine screening solutions for many applications
Derrick Corporation's proven fine particle separation technology has been beneficial in coal, copper ore, gold, industrial minerals, fertilisers, iron ore, plastics, silica sand and other fine screening applications, creating more efficient processes, saving energy and increasing profits.
When fitted with Derrick parented Polyweb® urethan screen panels, fine screening becomes practical in situations where it once may not have been.
Introduced in 2001, the Derrick Stack Sizer® machine is the company's top-selling wet screening machine. Offering from one to five decks positioned one above the other and operating in parallel, the highly efficient machine offers high-capacity while saving floor space.
Derrick Corporation's Polyweb urethane panels offer high open area and anti-blinding properties with performance that rivals conventional woven wire screens. Polyweb screens resist blinding and produce a higher quality product.
The HI-CAP dewatering screen, the largest member of the company's dual-motor linear motion machine line, is also designed to incorporate Polyweb urethane panels.
Increased dryness of discharging solids is possible with this machine because of the 5G acceleration provided by two 5HP Derrick W-series vibrators. This rugged machine is capable of withstanding the harshest environments.
Derrick Corporation's HI-G® Dryer has the ability to turn once-wasted material into a marketable product. It can recover material down to levels between 400mesh and 500mesh (between 38µm and 25µm). The high G-force vibrators along with Polyweb urethane screens dewater fines up to 80% solids by weight, so they are easily stacked or conveyed.
For dry screening applications, the company offers the revolutionary Front-to-Back tensioning system, which was engineered to provide even material distribution, leading to increase capacity and improve efficiency.
Additional machinery offered by Derrick
Derrick also additional equipment for mining and industrial applications, including:
Linear motion screens
Repulp screens
High-shear screens and belt scalpers
Traditional dry screening products
Woven wire screen surfaces
FLO-dividers, which are used to split slurry flows into various equivalent streams
Hydrocyclones, such as round desilter manifolds
Vibratory motors
For the oil and gas industry, the company offers gumbo removal systems for hydrated clay removal, degassers, shale shakers, mud agitators, centrifugal pumps, mud hoppers, and solids control modules. In addition, the company provides slurry separation and de-sanding equipment to civil and underground industries.
About Derrick Corporation
Founded in 1951, Derrick Corporation is a family-owned and operated company headquartered in Buffalo, New York, US, with an additional location in Houston, Texas.
Derrick Corporation is strategically positioned to provide superior customer service and technical support to clients worldwide.
The company has a reputation for solving tough fine screening problems, increasing efficiency and ultimately increasing profits for its clients. Combining its large suite of wet and dry screening products with its highly skilled technical staff and an in-house testing facility, Derrick assists its clients by providing an optimised solution and demonstrating its effectiveness under actual field conditions on full-size machines.
Derrick Corporation Images
Press Release
Derrick Corporation, a global provider of vibratory fine screening equipment, has announced Laercio Albuquerque, sales manager Latin America will be presenting a technical paper at the International Comminution and Classification Congress (ICCC) 2015 in San Luis Potosi, Mexico, 11 August 2015.
Read more
Derrick Corporation, has announced that sales manager of Latin America Laercio Albuquerque will be presenting a technical paper at the International Comminution and Classification Congress (ICCC) 2015 in San Luis Potosi, Mexico, 11 August.
Read more