Geobrugg
Rockfall Protection in the Mining Industry: Safer – Faster – More Economical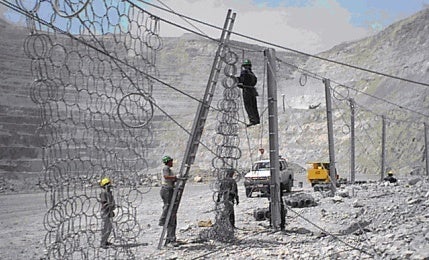 Swiss company Geobrugg is the global leader in the supply of safety nets and meshes made of high-tensile steel wire.
Many years of experience and intensive collaboration with universities and research institutes have made Geobrugg a reliable partner when it comes to protection and safety solutions.
Geohazard solutions for the mining industry
For more than 60 years, Geobrugg has provided protection from natural hazards with barriers for rock fall, avalanche and debris flows, and systems for slope stabilisation.
The company's solutions are also used to enhance profitability and safety in surface and underground mining.
Safety engineering and security solutions
Geobrugg has gathered expertise from more than 60 years of research and development, leading to advances in the field of security engineering.
This includes motorsports safety, crowd control for stadiums and major events, protection of ships and military vehicles, and access control for prisons and other secure facilities. The high aesthetic value of Geobrugg steel wire netting also meets the needs of architects for use in sports stadiums, parking garages, housing and other structures.
Rockfall barriers and mesh for mine ground support
Very steep pit walls can provide greater access to ore pockets and reduce removal of non-ore waste rock; however, the danger of rockfall, breakouts or partial failure of pit walls often prevents such plans as traditional protection measures with steel beams, wire ropes and meshes often will not give sufficient protection.
In open pit mines, flexible rockfall barriers crash-tested to extreme impact energies are increasingly installed to allow for steeper pit walls while also providing effective protection for workers, equipment, access roads, tunnel portals and buildings.
Reduced mining costs and the value of additional ore considerably exceed the installation investment in flexible barriers.
For ground support in underground mining and tunnelling, MINAX® 80/4 mesh made from a high-tensile steel wire protects against rockfall, rock bursts and squeezing ground.
Tests by the Western Australian School of Mines (WASM) proved that MINAX 80/4, with a tensile strength of 1,770N/mm² can carry higher static and dynamic loads than traditional reinforcement nets.
MINAX 80/3 mesh is an alternative to welded mesh sheets or mild steel chainlink mesh. It offers high strength, less weight, less overlap loss and fast installation. MINAX offers a new level of safety, performance and durability combined with maximum cost-efficiency.
About Geobrugg
A global network with branches and partners in more than 50 countries ensures fast, thorough and cost-effective solutions for customer requirements. With production facilities on four continents and more than 300 employees worldwide, Geobrugg combines short delivery times with local support for customers.
The company offers partners, consultants, developers and project managers for its customers.