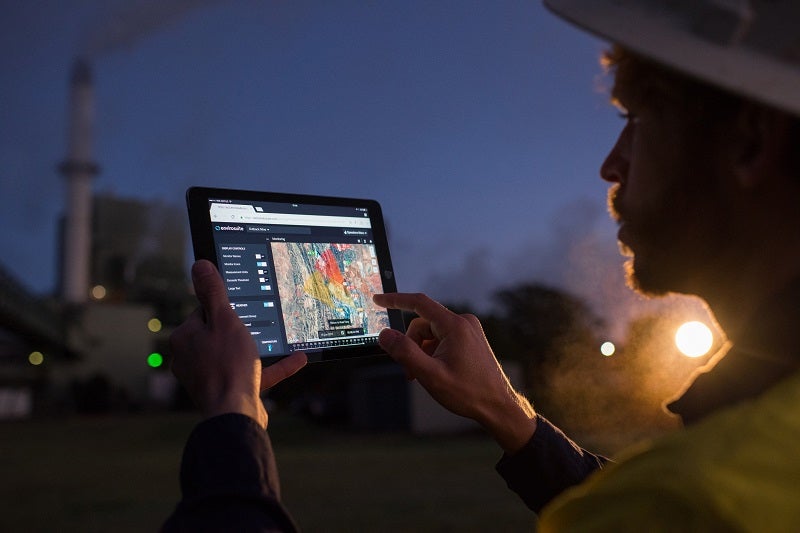 Envirosuite is a specialised risk assessment and environment compliance platform for the mining industry.
The platform aims to simplify complex environmental data and processes, giving you immediate clarity and insights that make for a powerful change in performance.
The cloud-based solution delivers speed, efficiency and cost savings to environmental compliance, investigations and operational planning to enable clients to access forecasted, current and historical environmental information relevant to their operational needs.
We aim to revolutionise environmental management by creating products that give users the immediate power and clarity to decide and act optimally. EnviroSuite embeds the skills and experience of leading environmental and IT professionals, delivered to you on demand for instant action.
Cloud-based platforms for optimising mining operations
Efficient production in mining needs to be balanced with environmental impacts, community relations and maintaining regulatory compliance.
Envirosuite provides dedicated predictive forecast weather and dispersion modelling, real-time air quality and weather monitoring, as well as blast fume modelling capabilities. Clients can also enable short-term tiered trigger levels for managing potential impacts.
Daily automated reports highlighting forecast weather conditions, dust risk, and recommended control options are provided through a user-friendly system interface.
Alerts are delivered via text, email and the system interface, and the company offers ongoing maintenance and support for the software and the monitoring equipment.
Risk assessment software-as-a-service (SaaS) platform benefits
The installation of Envirosuite has a wide range of benefits to both mining operators and local communities around the site.
These advantages include:
Minimal expensive incidents
Improved operational efficiency and minimise downtime
Assured safety of personnel and local communities
Reduce overhead costs of hiring environmental specialists
Maintain relationships with nearby communities to enhance local reputation
Schedule operations in advance based on local weather conditions
Prepare for times of high risk
Maintain compliance and satisfy regulators
Secure access to environmental monitoring data
Envirosuite can be connected to any existing environmental monitoring or sensor network, or we can advise and implement new sensor system hardware to capture required data.
Clients can access data from any location with an internet connection. Algorithms are applied to the raw data to generate useful, easily accessible insights for time teams.
Running on Amazon Web Services (AWS), Envirosuite uses stringent security protocols to protect and store data.
Environmental sensor data analysis
Envirosuite interprets real-time data for a range of parameters, including dust (PM2.5 and PM10), electrical conductivity, total suspended solids, pH, flow and turbidity.
The platform can also measure a selection of chemicals such as sulphur dioxide (SO2), nitrogen dioxide (NO2 / NOx), hydrogen sulphide (H2S) and ammonia (NH3).
Multiple air quality parameters, weather, noise and water properties are all available in Envirosuite, including additional information needed to ensure the device is operating properly.
Once data has been uploaded into the platform, it is securely stored and available for retrieval and interrogation by easy-to-use functions and tailored reports. Data can also be accessed in a comma-separated value (CSV) format for use in other apps.
After-sales support for SaaS platforms
As a SaaS product, Envirosuite comes with a support service to ensure that any issues are quickly and efficiently addressed.
Envirosuite can also be delivered as a comprehensive service, whereby its partners can deliver any monitoring hardware, data communications or associated consulting as part of a vertical solution package.
About Envirosuite
Designed for rapid deployment, Envirosuite is subscription-based software-as-a-service (SaaS). Pricing is simply on a periodic licence fee, although depending on the setup requirements (for example, monitoring system installation, non-standard reporting configurations) there may be initial implementation costs.
Committed to simplifying complex environmental data and processes, giving you immediate clarity and insights that make for a powerful change in performance. Our technology is a powerful cloud-based platform that brings speed, efficiency and cost savings to environmental compliance, investigations and operational planning.
The subscription covers system access and updates, as well as data storage and support services. The advantage of a subscription service is that no capital expenditure (CAPEX) outlay is required, and the cost typically fits within a client's operation expenditure (OPEX) budget.
Envirosuite is currently implemented at many different sites worldwide and our growing client base comprises some of the industry's reputable mining organisations on sites managed by Rio Tinto, BHP Billiton, Anglo-American and Vale, among many others.
Environmental constraints have become more burdensome and costly while ports continue to strive to grow economic output.
Envirosuite is pleased to announce it is partnering with the Australian Trade and Investment Commission (Austrade) to exhibit at ExpoMineria, Latin America's largest mining conference, being held from 25 to 28 October in Guadalajara, Mexico.
Envirosuite Limited
Level 19, 240 Queen Street
Brisbane
4000
Queensland
Australia