Maxitool
Process Plant Maintenance, Dredging, Mill Reline Services and Equipment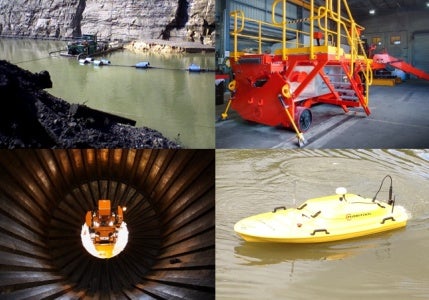 Maxitool Group is a leading resource industry service provider delivering solutions to clients Australia-wide and internationally. The company's locally-owned and operated businesses have a workforce of experienced, highly-skilled staff. The executive team includes key personnel with more than 15 years in the sector.
Maxitool Group's core capabilities include process plant outage maintenance, dredging and surveying of water storages, and the design and manufacture of mill reline equipment.
Process plant maintenance and mill relines
Maxitool Mining specialises in the re-lining of grinding mills and scrubbers. The company has extensive experience in all types of mills and lining systems and can undertake backing rubber repairs and shell repairs. The team's expertise also includes crusher liner changes, bearing change-outs and drive-train maintenance.
The maintenance and repair of grinding and ore transfer systems is an inevitable and critical path task on plant outages and Maxitool Mining is there to assist. The company has an operational knowledge of feeders, conveyors and chutes, as well as the general repair and maintenance of all types of process plant.
Maxitool Mining is actively involved in developing tooling and equipment that facilitates a safer and more efficient reline process. The company works in conjunction with Maxitool Engineering to supply specialist tooling and lifting equipment that has been designed, manufactured and certified to a high standard.
Mill reline equipment
Maxitool Engineering is a diverse engineering enterprise with a focus on the resources sector. Its speciality is the design and manufacture of mill reline equipment, including liner handlers customised for smaller trunnion diameters and restricted areas.
The company's capabilities also include engineering, design, manufacture and overhaul of all types of equipment and structures.
With a wealth of experience in process plant engineering, Maxitool Engineering has the knowledge and experience to execute clients' engineering, repair or overhaul project to the highest standard.
Maxitool Engineering's in-house engineering department can design, draft, manufacture and implement solutions for clients, quickly, easily and cost-effectively. Contemporary 3D design software (Inventor) enables the company to model to the finest detail to verify the suitability and functionality of a design before proceeding to manufacture.
Dredging and bathymetric survey
Maxitool Dredging has owned and operated its fleet of dredges since 1998 and can meet the demands of the most difficult projects. The company's team of dredge operators is highly experienced in all aspects of the process, including the safe dredging of HDPE lined ponds, without risk of damage to the lining.
All dredging equipment is designed to be easily portable. The dredges are a single load on a standard trailer and the associated equipment normally constitutes a second trailer. The heaviest lift is 18t, therefore site-based load shifting equipment is normally adequate for the loading and unloading of equipment.
Maxitool Dredging delivers high flow rates over long distances and high heads using stage pumping, when required.
As a support service, the company provides an innovative bathymetric survey solution using a remote control survey boat. The vessel is controlled from a land-based station and the survey data transferred via a live data link. This enables hazardous areas and exclusion zones to be mapped safely and effectively. Through applying advanced software, Maxitool Dredging can provide a detailed mapping and reporting of the water body.
Safety culture and continuous improvement
The safety and well-being of all personnel associated with Maxitool Group forms the most important of the three pillars of our mission and as such is critical to our business.
"Safe Work" is a culture that is promoted by members of the Maxitool Group and is supported by robust systems and processes that have been tailored to the type of work it undertakes. This approach has enabled the company to achieve an excellent safety record in a high-risk environment.
Maxitool Group aims to be a dependable service provider delivering certainty of outcome for our clients. The company mission is:
Certainty in safety
Certainty in quality
Certainty in value
Maxitool Group embraces a continuous improvement culture based on Kaizen ideals and is supported by a structured system and process. The company understands that a successful business must relentlessly pursue improvement in productivity and operational excellence in order to remain competitive.
Maxitool Group shares these ideals and builds partnerships with like-minded clients.