ASI Australia / Liberty Industrial
3D Demolition Simulation and Consulting Services for the Mining Industry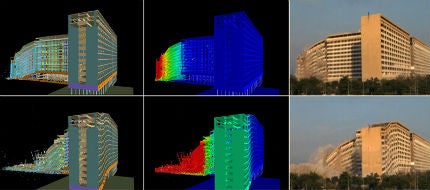 ASI Australia / Liberty Industrial provide demolition consulting and contracting services, along with simulation of demolition and progressive collapse, to mining clients in Australia and globally.
Liberty Industrial is a leading supplier of industrial deconstruction services, a heavy industrial demolition contractor and an exclusive Australian agent for Extreme Loading for Structures (ELS) software from Applied Science International (United States), also trading as ASI Australia.
ASI Australia offers advanced structural engineering services, including structural vulnerability analysis of critical infrastructure, demolition planning and prediction, and building design and reinforcement against blast and progressive collapse.
Through the use of state-of-the-art 3D simulation technology, which is used to model the demolition of structures as a result of earthquakes, hurricane force winds, bomb blasts and other extreme loading events, we provide expert demolition contracting services to the mining, heavy industrial and power generation industries.
Demolition contracting and consulting services for mines
Liberty Industrial utilises ELS software in its demolition contracting and consulting services. The software is specifically used in the development of induced collapse methods and enables mine operators to avoid some of the inherent risks with large demolition projects.
Liberty Industrial has experience of working with major companies such as BHP Billiton, Rio Tinto, and Xstrata, providing both demolition and contracting and consultancy services. The company is compliant with relevant mine closure standards.
3D modelling of demolitions
ASI Australia has the capability to model the collapse of a building, complete with lifelike visualisation of the damage and likely debris.
The company's ELS software can be utilised on almost any structure, including historical structures, stadia, bridges, high-rise buildings and even elevated water tanks.
Features of the software's exclusive simulation capabilities include:
Demolition prediction / failure
Structural evaluation
Construction / design defect
Seismic / earthquake
Crack initiation and propagation
Progressive collapse
Corrosion / deterioration
Pre-stressing
Blast / explosion
Bridges
Glazing
Wind
Visual effects
Simulation of demolition of large complex structures
ELS software generates a near-virtual reality environment that enables the viewer to see a full-motion video of the impact on the building, whether it's an earthquake underneath, or a hurricane causing devastation from above.
The risks associated with the demolition of large complex structures can be mitigated by using ELS to simulate the induced collapse. Through utilisation of the 3D modelling, we are able to precisely refine our demolition methods to ensure we remove the risks associated with weakening structures.
Structural risk assessment and vulnerability software for the mining industry
With accurate vulnerability and risk assessment, ASI's technology is a breakthrough for facing man-made and natural threats.
ELS software's ability to visualise forecasted structural response enables clients to gain an understanding and make informed decisions when constructing, retrofitting or securing a building through a modification of the structural design, relocating key assets, extending a building's perimeter, changing glazing, or implementing new security procedures.
Deconstruction consulting services for the mining industry
Liberty Industrial offers specialist deconstruction consulting services, in addition to demolition contracting. Services offered by the company include:
Preparing closure documentation (consisting of detailed cost estimate reporting and methodologies)
Completing detailed engineering studies
Risk management strategies
ASI Australia / Liberty Industrial Images
Liberty Industrial Pty Ltd