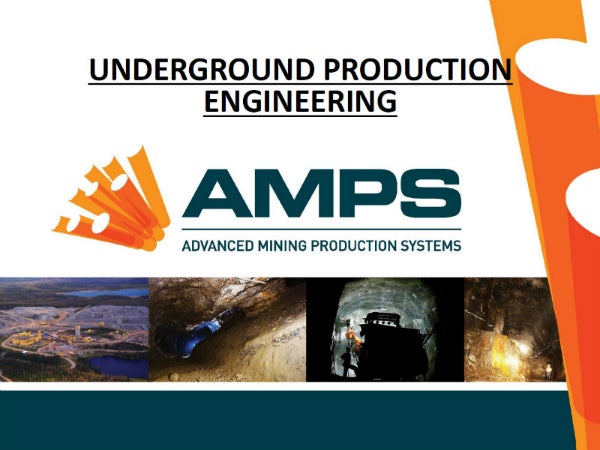 Advanced Mining Production Systems (AMPS) is an Australia-based, global mining consulting company that specialises in technical department optimisations for both underground and open pit mining operations.
Professional services for mining industry workers
The company provides high-quality professional services to build capabilities within client organisations and future-proof technical services departments through mentoring, training and the provision of mining procedures and systems.
AMPS attracts, recruits, and retains knowledgeable and passionate mining professionals and provides them with a collaborative and innovative culture that enables them to thrive both professionally and personally.
The suite of specialist services includes:
Advanced Mining Production Systems (AMPS)
Technical department setup for new operations, with a complete suite of technical department procedures, guidelines, and supporting documentation designed specifically for client operations
Technical department reviews and optimisation
Industry proven training courses for professional staff
Technical department gap analysis and process mapping
Employee responsibilities and accountabilities
Underground production ring design services
Operational support
Technical department processes for new mining operations
Planning and design is a vitally important process prior to commencing mining operations at a new site.
AMPS help make clients operationally ready from day one, with industry proven technical service procedures, systems, processes, and supporting documentation.
Review and optimisation strategies for mining technical operations
A professional, independent review of existing technical department processes ensures that systems and procedures are maintained to the highest standard. Experienced AMPS consultants identify areas that are either missing or could be improved.
On completion of an AMPS technical department review, the company can assist with implementation strategies to ensure recommendations are integrated to the operation as quickly and effectively as possible, positively impacting overall production quality and efficiency.
Specialised mining training programmes
AMPS has developed a range of industry proven training programmes. To reduce the burden on the senior management team and to further enhance the skills and knowledge of mining technical departments.
By providing both classroom style and online training options to keep students engaged throughout the course, participants can obtain world-class mining knowledge in the training environment that best suits them. AMPS knows that everyone learns differently, so it makes sure individual needs are accommodated.
A wide range of courses has been developed by experienced mining professionals specifically for open pit and underground operations, but all courses can be tailored to suit site-specific mineralisation types and mining methods if required.
Topics covered in the existing AMPS courses include:
Stope design, planning and optimisation
Production drill and blast design for a wide range of mining methods
How to identify and solve irregular drilling and blasting performance
Training in the use of various mining specific design software specifically for mine optimisation, and drill and blast design
Mining-specific Microsoft Excel training
Operational support from mining industry experts
AMPS's ongoing operational support helps to keep clients' operations running smoothly. All AMPS consultants have real-world production mining experience, combined with specialised training, providing them with the required knowledge, practicality and client relationship skills.
The operational support teams' experience ranges from production drill and blast engineering, mine design, scheduling and planning, through to underground and quarry management capabilities.
Production stope and drilling designs
AMPS provides a comprehensive drill-and-blast design service to remove the menial tasks from day-to-day activities.
Quality drilling and blasting results start from the initial design, but the least experienced person is generally responsible for them. AMPS's vast experience in different mining methods, commodity types and ground conditions ensures clients receive the optimal drill and blast design that maximises ore recovery, fragmentation and minimises dilution.
Advanced Mining Production Systems
8a/16 Phillimore St
PO Box 1082
Fremantle
WA6160
Western Australia
Australia