Atrico is a specialist corporate advisory firm with a focus on industrial and mining technology companies.  Atrico works with the boards of small to medium companies to grow their value by 3-10x and to achieve successful partnering, merger and acquisition, and trade sale transactions. We do this by leveraging our industry expertise, proven tools and processes, and deep industry relationships built over 400+ engagements.
Our team have backgrounds in technology, corporate finance, and marketing.  Because of our sustained focus on technology, we have built up a great deal of expertise in the business of industrial and mining technology across the value chain.  We have also built strong relationships in organisations that acquire industrial and mining technology.  Because of this, we are the ideal firm to quickly understand your business, guide your strategic growth, and maximise the value of your corporate transactions.
Strategic Growth – Building the Value
Many growing industrial and mining technology companies struggle with the multitude of challenges in building their business. For you, these may range from nailing the product-market fit to building a killer marketing and sales team, having a scalable platform for global growth, and a succession or exit strategy.
Our growth clients highly value the strategic focus we provide and our pragmatic advice for overcoming challenges.  We have built up this experience from running our own businesses and from 20 years focusing on technology business corporate advisory and advising more than 250 companies.

Atrico offers specialised advisory services to industrial and mining companies.

This image shows our growth development process.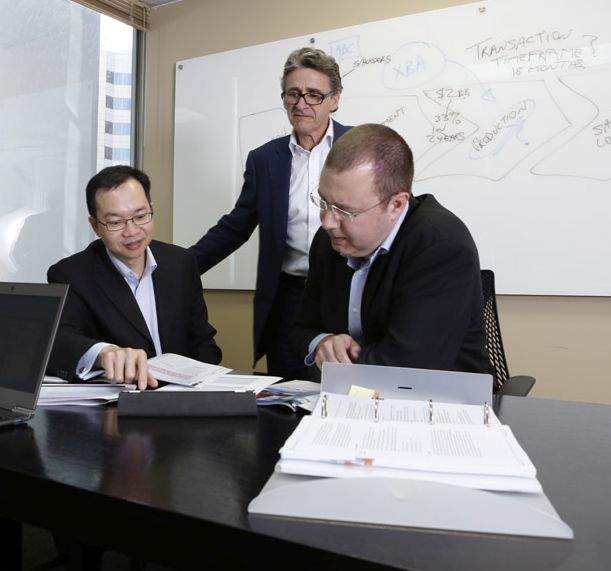 The company has been involved in more than 400 separate engagements since 1995.

This image shows our transaction engagement process.
When faced with critical moments such as make-or-break strategic decisions or negotiating a crucial deal, you will benefit from having an advisor who is a seasoned entrepreneur and deal maker alongside you.
Transactions – Realising the Value
If you are like many entrepreneurs, the exit of your business through a trade sale can be both an exciting and anxious period. Who are the suitable buyers for my business? What is a good price and what are the typical terms? How can I protect myself against the sharks out there?
A transaction such as a trade sale may be new to you but often your potential buyers have done it more than 10-20 times. This is where we can come in to assist you get the best outcome for your shareholders, employees, and clients.
Having done more than 30 industrial and mining technology company transactions globally, we are experts in packaging your business to maximise its value, finding and pitching to strategic acquirers, and negotiating the price and key terms of your deal. This means you can focus on running your business while being confident you have veteran deal makers in your team who will firmly guide you to the best possible outcome.
Why Atrico?
Because Atrico are specialists in industrial and mining technology corporate advisory we have a number of distinct advantage for small to mid-size technology firms:
You get pragmatic advice based on a deep understanding of technology businesses
You have access to our deep experience with international technology transactions and extensive network of potential acquirers, investors, and partners based on over 400 engagements over the last 20 years
You get heavily discounted hourly rate, with the bulk of Atrico's compensation based on delivering a successful outcome, allowing you to incorporate Atrico's expertise without excessive fees
History of Atrico – Veterans of Technology Business
Atrico (then called CyberResearch) was originally started by Ivan Gustavino and Kheong Chee in 1995 to commercialise an Internet price-comparison technology developed by Dr. Kheong Chee.  Ivan Gustavino, himself already a veteran of several technology ventures brought the commercial experience to guide the venture.
While selling that technology, the founders realised that there was very little expertise in Australia regarding the commercialisation of technology.  Atrico then switched to providing that expertise to Venture Capitalist, Angels, Listed Investment Companies, and Investment Banks – and found its services in demand with the frenzy around Internet technologies.
With much deeper commercialisation experience, Atrico's services became more in demand with large corporate, research organisations, and government for the management of technology, intellectual property, and commercialisation.  This naturally evolved along with the successful technologies into supporting them through the lifecycle of planning, execution, capital raising, growth, and exit.
Being based in Perth, one of the main mining technology hubs in the world, and due to Ivan's experience in the early stage growth of one of the leading mine planning software companies, Atrico naturally grew to specialise in industrial and mining technology.
In the 23 years since its founding, Atrico has assisted on more than 400 separate engagements, predominantly industrial and mining technologies, but all focused on building and realising the value of technology.