With more than 60 years of experience in over 100 countries, ATCO Structures & Logistics (ASL) has been a leader in the design and manufacturing of modular buildings and industrial camps. No matter the size of your workforce, whether you need temporary or permanent accommodations, or complete operational services, we have a solution for you.
Headquartered in Calgary, Alberta, Canada, ASL has locations across Canada, the US, South America, the UK, the Middle East and Australia.
Mining modular building accommodation, camps, offices and catering
More than just a modular building manufacturer, ASL supports industries such as mining, oil and gas, construction, power generation, military, education and government, offering bundled products and remote operational services for a complete turnkey solution. We provide:
Mining and oil sands camps
Construction trailers
Prefab mobile offices
Mine dry facilities
Metal buildings
Staff quarters and dormitories
Modular guardhouses and security buildings
Kitchen / dining facilities
Recreational amenities
Site preparation and construction
Catering and camp services
Industrial noise management
Remote mining and construction camp accommodation
ASL has provided temporary and permanent mining camps and facilities around the world, from the heights of the Chilean Andes, to the rain forests of Gabon, Africa. Our in-house design and engineering team will create a custom solution to meet your needs.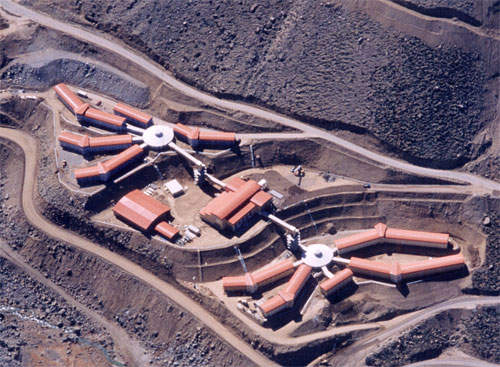 Uneven terrain in the Andes inspired an innovative three-tier facility with two mining camps at Los Pelambres Copper Mine, Salamanca, Chile.
Award-winning accommodation for 300 workers of Falconbridge Raglan Nickel Mine in Kattiniq, Quebec, designed to protect the permafrost and withstand temperatures of -50°C.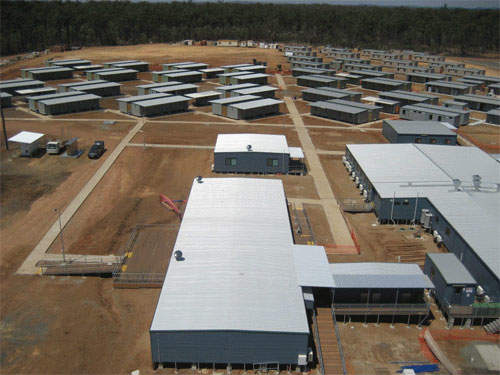 Clermont Coal Mine accommodation village for 500 workers in Queensland, Australia, including kitchen / dining, gymnasium, movie theatre and office facilities.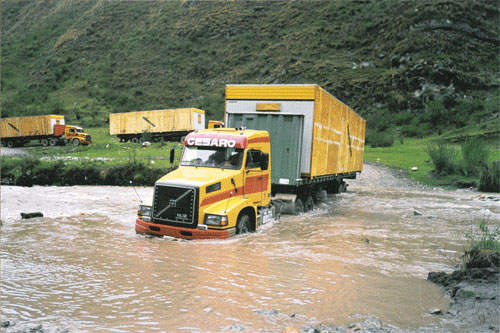 Units manufactured by Tecnofast ATCO in Santiago Chile are transported by truck to install a construction camp for Antamina.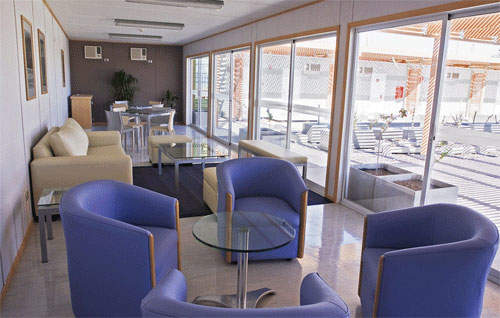 Remote industrial camp accommodations that feel like home help attract and retain employees.
Our modular buildings are designed to withstand extreme temperature and heavy snow loads, and can be transported and installed in the most difficult locations. We look at innovative and energy-efficient ways to build and operate our mining camps in a cost-effective manner.
Although rugged and durable in their construction, ATCO custom-prefabricated modular buildings can be designed to fit in with the environment and offer comfortable and stylish interiors complete with lounges, recreational facilities, gymnasiums and movie theatres.
Mine-site catering and remote camp services
For your own mine-site camp or with our build-own-operate (BOO) solutions, we provide complete catering and camp services to your organization so you can focus on your project. Even in the most remote locations and extreme climates, ASL will improve the quality of your camp.
We will make your employees feel at home with a safe, relaxing atmosphere, the highest quality meals prepared by Red Seal-certified chefs, and a variety of amenities for sports and recreation.
Our remote operational camp services include:
Facilities and accommodation management
Catering and food services
Housekeeping and laundry
Facilities maintenance
Utilities provisions (power, water, wastewater and solid waste management)
Relocatable prefabricated metal buildings
The Fold-A-Way® metal building is relocatable, easy to set-up, and can be reconfigured in an almost endless variety of designs. Fold-A-Way buildings have been used for such diverse projects as maintenance shops, warehouses, first aid shelters, equipment storage and other applications.
ASL is a full-scope metal building provider and installer. We have a full range of building products ideal for mining sites, including:
Steel structures (conventional, hybrid and pre-engineered)
Barrier walls
Acoustic and conventional doors, frames and hardware
Acoustical and non-acoustic windows
Mining camp accommodation facilities
ASL's mining industry experience includes camps and accommodation facilities for:
Diavik Diamond Mines, Lac de Gras, Northwest Territories
TeckPogo, Delta Junction, Alaska
De Beers Victor Diamond Mine, Northern Ontario
Falconbridge Raglan Nickel Mine, Kattiniq, Quebec
Los Pelambres Copper Mine, Salamanca, Chile
Collahuasi Copper Mine, Northern Chile
Veladaro Mine, San Juan, Argentina
SQM Potash Mine, Atacama Desert, Chile
Goro Nickel Mine, New Caledonia
Koniambo Nickel Mine, New Caledonia
Clermont Coal Mine, Queensland, Australia
ATCO Structures & Logistics. Always there. Anywhere™.