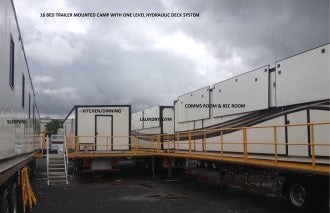 ACE Camp Solutions has brand new 16-person trailer-mounted mobile camps for sale or lease.
The facilities come completely furnished and ready for plug-and-play use. ACE Camp's modern design features many low-maintenance, easy change-over products and leaves a marginally smaller carbon footprint that any other mobile camp provider. The internal finishes are second to none.
ACE also considers its new model camp to be the safest, fastest and most cost-effective mobile camp on the market to mobilise and demobilise.
ACE Camp Solutions' mobile camps will provide you with:
A robust, trailer-mounted, patented, one-level deck solution, (hydraulic decks) built for Australia's tough conditions. They are cooler and safer, making staff more comfortable and producing a lower carbon footprint
A very safe camp environment. They reduce risks / hazards as the decks are off the ground and all electrical, water and waste piping running under the trailers. All TV and internet (optional) services are wireless, eliminating costly time of running coax cable
Low-cost, speedy mobilisation and demobilisation (road train capable, plug and play systems), roof-mounted satellites that fold down and up automatically with a flip of a switch
Gas lift shades in between buildings that only require two spring-loaded catches to be released. They can be set-up with only an extension pole with a hook to pull them down to lock back into the catches
Aesthetically pleasing, comfortable and homely surroundings
Large trailer-mounted water storage of around 50,000l
Remote access to generators (optional), depending on whether satellite is installed or in next-generation area. This allows the ACE generator technician to access and monitor it
Low-maintenance, high-quality products are used by ACE Camp, including:
Double-glazed, tinted windows and blackout, slatted roller blinds for cooler and darker rooms
LED lighting throughout ensures less emitted heat, fewer bugs, blown bulbs, and the lights are lighter so won't fall off ceiling like fluorescent ones
Instant hot water systems the size of a shoebox and no need for electrician support as they are easy to change, if needed. There are no weighty, large hot water systems to let water out of when moving. Spares are sent with camp, these units only require an electrical socket and you screw the water to the unit with a couple of screws to attach unit to wall. It also saves precious water because it instantly heats. They also do not use power when not in use, saving generators and fuel consumption
Jet Vacuum Toilet system that uses 0.5l per flush, rather than 5l to 8l in normal toilets. These also eliminate macerator pumps from each building that are prone to breaking down. This type of system is very expensive but is bulletproof and will save thousands of dollars over a year in water saving alone. These units are used on planes and ships. These units use less water, which in-turn, provides much less waste, so are environmentally friendly. If using a waste tank, less waste is required to cart away, saving thousands on sucker pump trucks and fresh water supply
Roof-mounted A/C units are built for mobile purpose, same as caravans and easy to replace. A spare will also be put in camp
Self-positioning, roof-mounted satellites just require a flick of the switch in the comms room when camp is powered-up and they will position automatically. The same thing for demobilisation; flick the switch and they will fold back down flat. ACE also offers the option of a roof-mounted self-positioning satellite for wireless internet throughout camp
Internal fibreglass / Honeycomb wall panel. Strong, light and flexible with very good sound and insulation
---
Image: ACE Camp Solutions' trailer-mounted camps are faster to mobilise and demobilise. Photo: courtesy of ACE Camp Solutions.